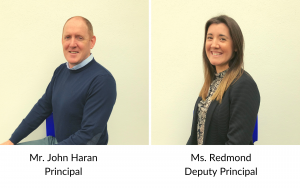 St. Bernadette's School is a school for children with mild learning disabilities. It is a co-educational day school, governed by a Board of Management in accordance with the rules of the Department of Education and Science.
We have a large staff, which allows St. Bernadette's to meet individual needs.  In addition to school staff, the school is able to draw upon the essential contributions of a number of external therapists and sports coaches. The emphasis is on teamwork so that the best possible education can be provided for each child.
The school curriculum is student-centred and is adapted to benefit each child. The programme provided aims to cover curriculum areas such as Religious education, English, Maths, History, Geography, Science, Home Economics, Music, Drama, Computer Studies, Physical education, Arts & Crafts, Life Skills including Pre-Vocational Training through Work Experience, Woodwork and Health Education.
The school also provides many sporting activities including swimming, basketball, football, GAA, bowling, mini-hockey and it also has a fully equipped P.E. hall.
The latter years in St. Bernadette's are characterised by the development of "Life Skills" to help the children make the transformation to young adulthood. When pupils reach the age of 16, they have the opportunity to gain work experience in local businesses, two mornings per week.  Students are also encouraged to complete various modules and achieve FETAC awards. Past pupils have shown that they are in many cases, able to hold down jobs in the general employment market. This has involved working in retail outlets and factories or in family run business or farms. In other cases sheltered employment has been more suitable.
Enrolment usually takes place in September but students can be accepted at any time. The school welcomes boys and girls, aged between 4 to 18 who have a variety of special educational needs.