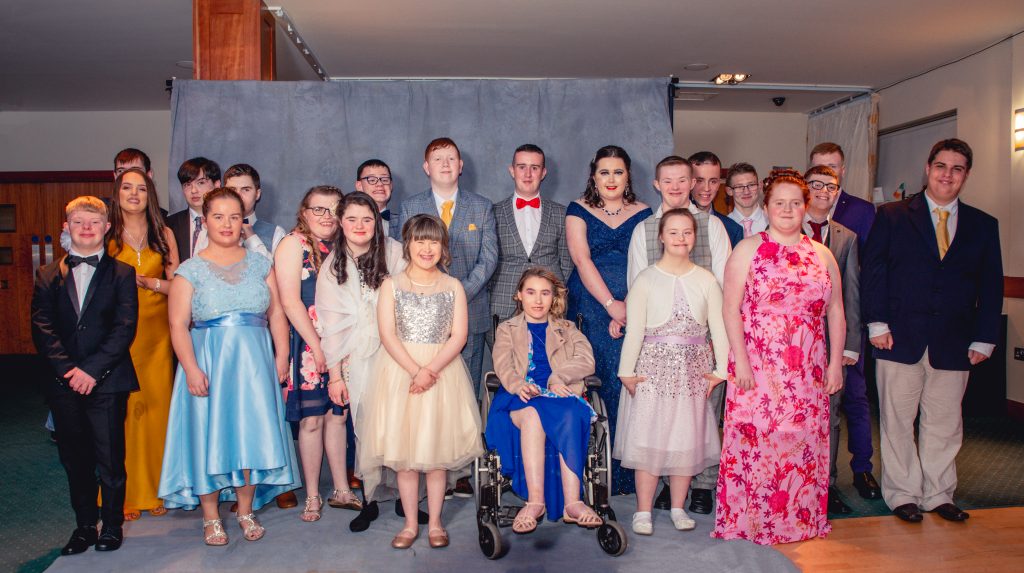 Hello everyone.
As you know we have begun to wind down as the end of term approaches.
It has been a strange and difficult time, but you, and your families have been fantastic. The photograph of the prom last year will remind us all of an amazing night a year ago, where parents students their families and friends came together. We will have other nights like this. I was already organising it before lockdown!!
There are a lot of things that teachers have to sort out before we can go back to school in September.
So for now, have a wonderful Friday.  I'll speak to you all on Monday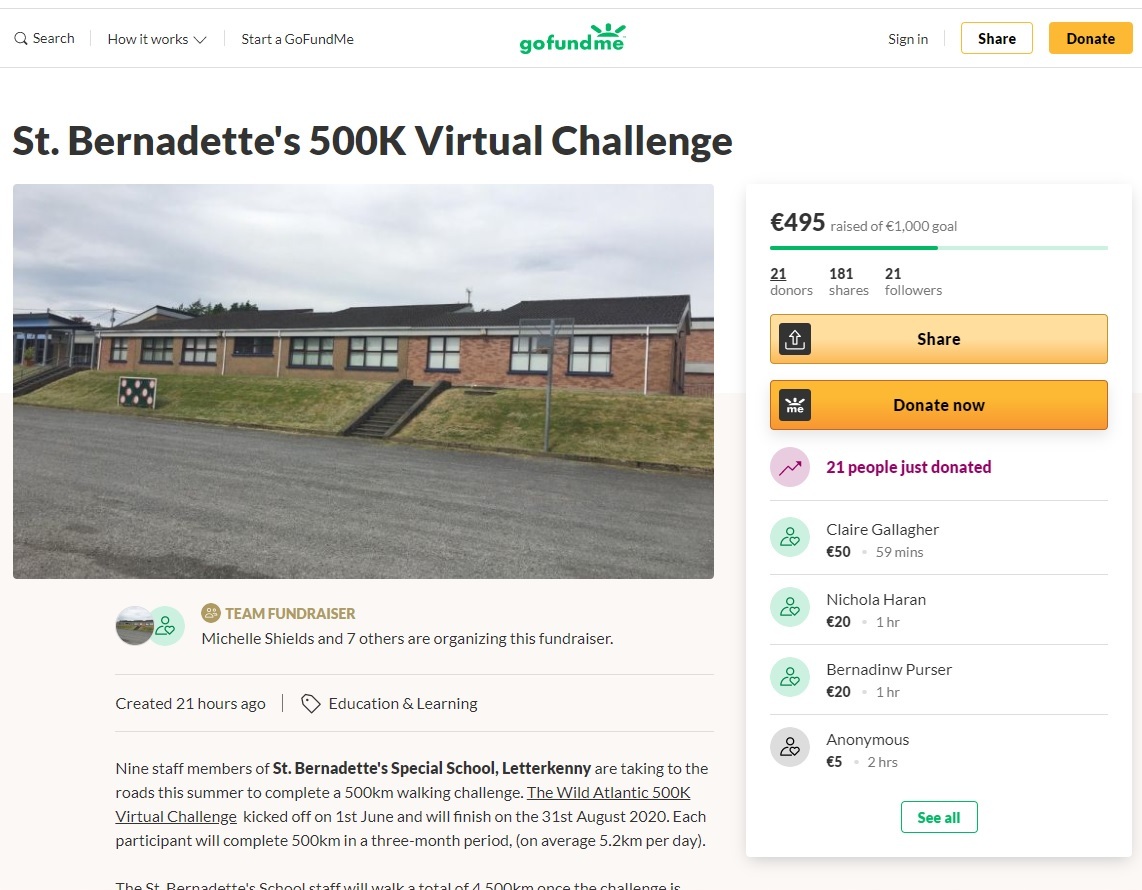 June is on the Way!
Hello Everyone.
It has been brilliant chatting with you all on our WhatsApp group every day.
I am so glad that you are all safe, well and happy. Please keep chatting and posting your lovely photographs.
This week is the last week of May.  School is closed on Friday 29th of May.
Monday is the 1st of June.  It is a Public holiday.  School is closed.
We can look forward to a nice relaxing long weekend to welcome in the Summer.
Click on the link below to make a yummy smoothie.
😎
Keeping your Mind and Body Healthy
Hello Everybody.
We all know that it is very important that we keep our minds and our bodies healthy. Remember how we used to go for big walks every week?  I really miss those walks.
Sometimes I get sad or anxious because I miss being at school.  So I try to keep myself calm by doing some deep breathing…Do you remember our Mindfulness classes in school?
You can do them at home too.
Its been lovely chatting with you on the WhatsApp group. Keep posting your comments and your photographs.
Stay safe everyone.
Emma's lovely work
Emma Patterson has been working very hard at home and she sent us an email of a photo of her mosaic art work, isn't it fabulous!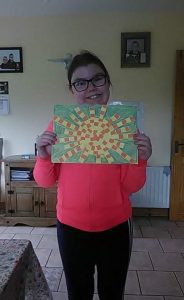 Keep up the good work Emma 🙂
This weeks Theme of the week is Baking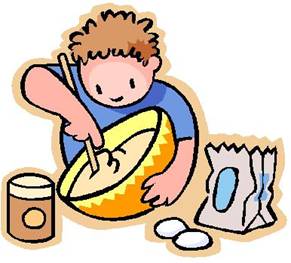 Why not try some simple recipe ideas just like I would make at home. 
https//www.weebuns.com
Enjoy the sunshine!
Hello everybody!
Mrs McAleese here. 
I have created a WhatsApp group for you. Here is the link so  that you can join. Just copy and paste the link into your browser. 
Stay safe!
https://chat.whatsapp.com/DbjOz7PB4HIL7WMzebRpqb
WORLD AUTISM DAY 2020
Thinking of you all!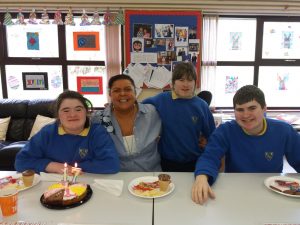 Helping Kids Boost Frustration Tolerance
Another great resource I wanted to draw your attention to, is a printable with prompts to help increase self-awareness around failure and success as well as prompts to make plans for how to handle frustration. The goal is to help kids and teens realize that when they feel truly frustrated, they can choose how to react.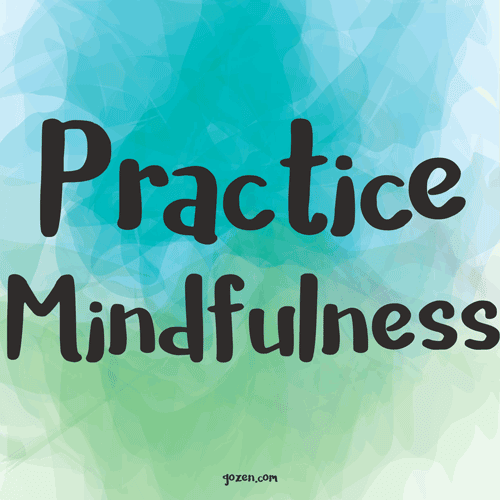 Hello Everyone,
Welcome back to school for our third term and our 'new normal' of learning at home.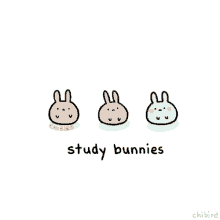 Id like to say a big thank you to Miss Devine for the wonderful work she did in Senior 2 at the end of last term. The students all greatly enjoyed working with you Miss Devine-thanks so much!
Just to let you all know, Miss Devine has told me about a wonderful book explaining all about the coronavirus, its called Coronavirus-A Book for Children.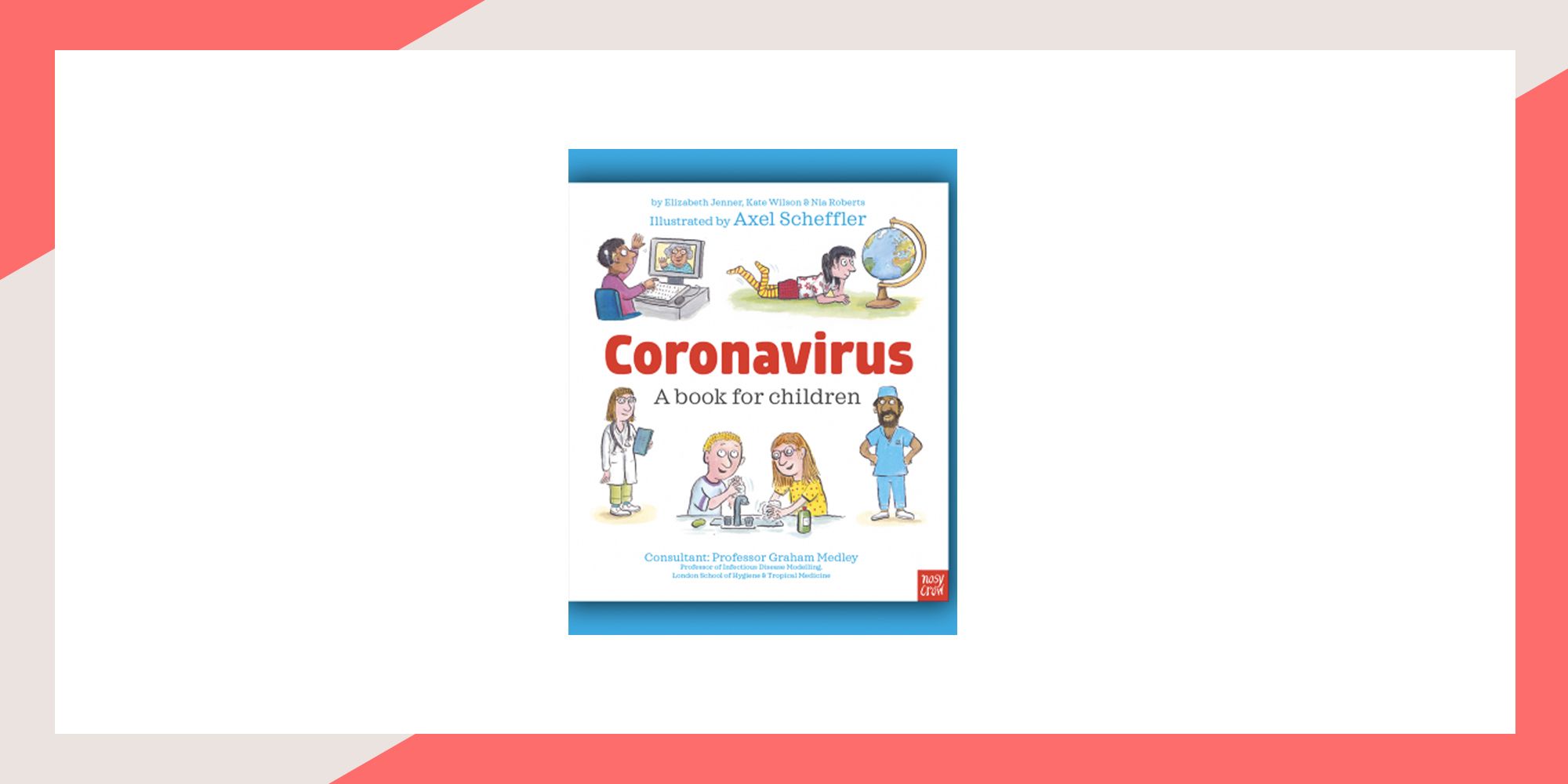 We have been working on improving our social interaction in our class, greetings, making conversations, asking questions and listening to others. I hope you are all phoning, texting and chatting to your friends and families! Lets stay in touch and stay safe!
We have also been working on up-cycling and recycling.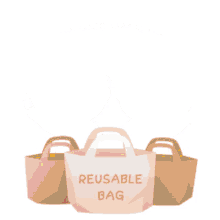 Here is a lovely art and recycling activity my crafty class can try at home!
For those of you who would like some work to do at home that is age appropriate and relevant to our senior curriculum I am posting some links below.
(Please dont feel under any pressure to work on any of these workbooks, the most important thing we can do for ourselves is to keep safe and be happy)
Nala Workbooks-These are pdf copies and are examples of some of the life-skills work we do every day in our school with our students
The Really Useful Guide to Words and Numbers – learner workbook 1
Miss Black told us about a lovely book called THE GREAT ISOLATION ACTIVITY BOOK
I will keep in touch with you all and post more information and work ideas for you here as the weeks go by. All the best to you all…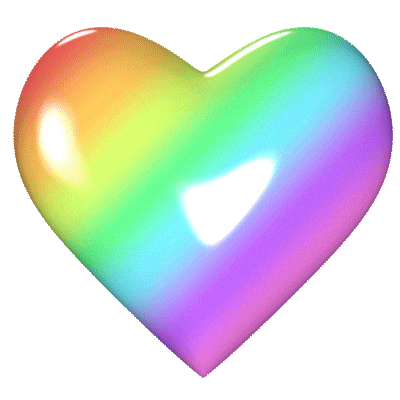 Karen McAleese (Senior 2 Teacher)
OUR LOVELY DVD COVERS
TASTY TREATS STORIES
On Tuesday I go shopping.
On Wednesday I set up the crisp table.
On Thursday I sell the crisps.
By Sorcha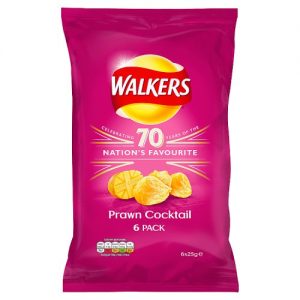 On Tuesday we go Tasty Treat shopping and we take the bags and money . On Wednesday I or Kylan write the letter and the boss takes it around the classes . After that Henry does his baking for Tasty Treats . On Thursday I will get the microwave to make the popcorn. I am on the baking table this week with Ciaran. We are selling the bark .
By Dean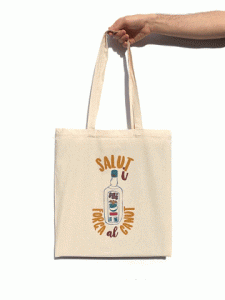 On Tuesday we go shopping.
I help Leah set up the drinks table on Wednesday.
On Thursday I sell the drinks and I am the boss this week.
By Sarah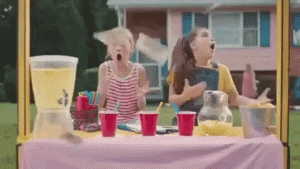 On Tuesday I go Tasty Treat shopping.
On Wednesday i put out all the crisps.
On Thursday me and Sorcha will work on the crisps table.
By Amy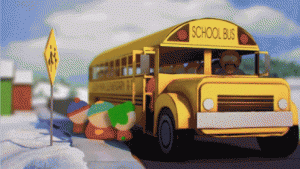 ART 2018
OUR FABULOUS FACES- LOOK AT THE LOVELY ART WE HAVE DONE THIS WEEK.
MARIE'S BIRTHDAY AT TROPICAL WORLD
We went to Alcorn's to see animals and for Marie Birthday. We saw snakes, birds, fake crocodiles and fake Dragons and Dinosaurs. The snake is called Max he wrapped around the Zoo keepers neck. I like max because he is scary and funny. I touched him. The birds are loud, I don't like noise.  After we went to the cafe. I had Cheese Cake. it was Fabulous.
By Cian O'Mahoney
ALCORNS
On Marie's birthday we went to Alcorns and we saw flowers and monkeys.
We also saw a bear and snakes and took lots of funny photos.
We saw a funny gorilla the butterflies were lovely. David didn't like the big grizzly bear.
We saw a talking parrot, it was hilarious.
We all saw Meerkats they were cute. Marie was funny.
It was fabulous.
We went into the 'Thyme Out' and I had a caramel square, it was yummy.
I also had to drink Fanta orange.
Miss Silva is the best photographer.
I love Miss McGinley, she's the best girl.
By Catherine McLoughlan
MARIE'S BIRTHDAY AT TROPICAL WORLD
On Wednesday the 18th of April we went to Alcorn's Tropical World for Marie's 17th birthday party.
We saw a lot of animals there. I saw a lot of lovely butterflies, the colours of the butterflies were amazing.
I touched a snake, I was really scared.
The meercats were very cute. I saw talking parrots they were really funny.
I took some funny photos on my phone. Mrs Silva took a picture of me with the Gorilla.
We ate lunch in a cafe called Thyme Out. It was a very pretty cafe.
I really had a lovely day with my friends.
By Catherine Norcott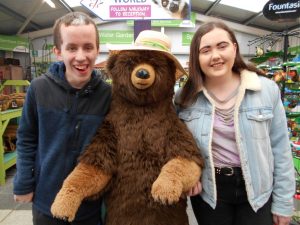 MARIE'S BIRTHDAY AT TROPICAL WORLD
Last Tuesday 17th April 2018 we went to Alcorns for Marie's birthday.
I was taking pictures on my phone of the lovely Animals.
We saw the butterflies in the jungle. The jungle was wild warm and hot.
We saw a bear it wasn't real. Everyone stood beside the bear.
We all said hello to the talking parrot. The parrot said hello to us.
We saw cute meercats.
Mrs Silva took plenty of funny pictures of the lovely animals.
Me and Catherine Norcott were scared of the snake at the start.
Then We got some food and a drink. The food was really nice and we all enjoyed our self's day out for Marie's birthday party.
By Gordon Wilson
THE VALENTINES DANCE
I am dressed and ready to work. I am with my friends Kyle, Cian and Gordon.
I danced with Mrs Gallagher. I danced with Courtney.
By David Fitzsimons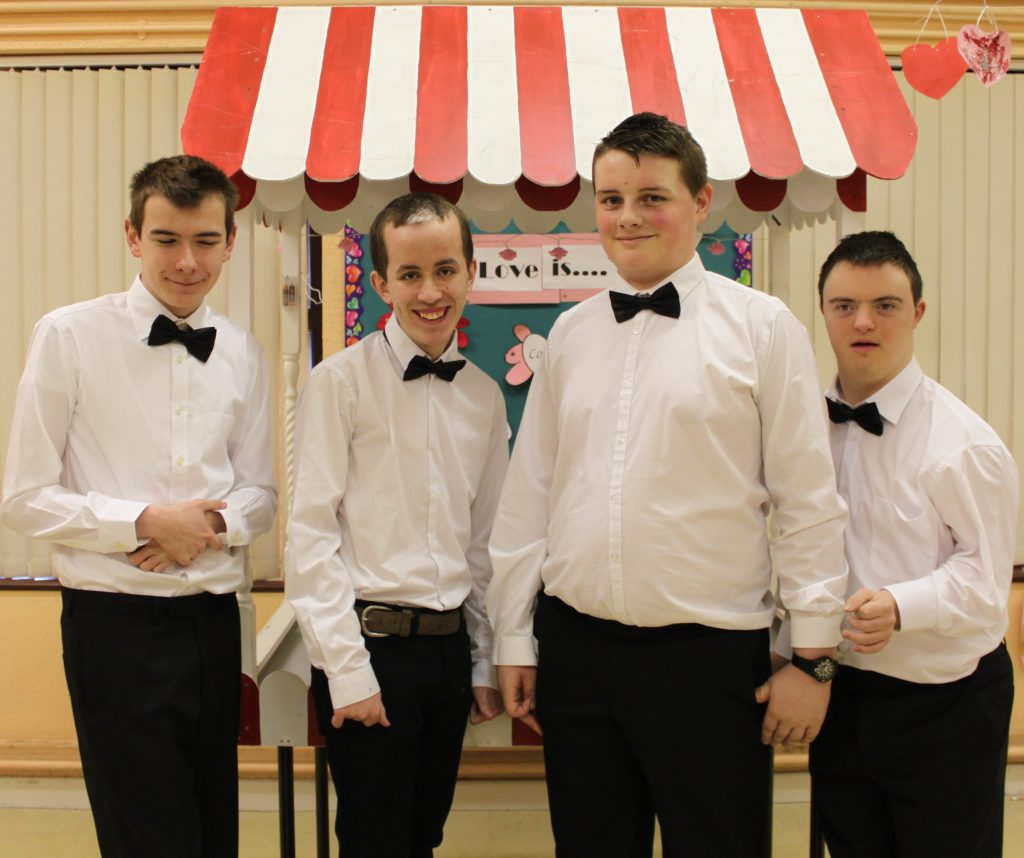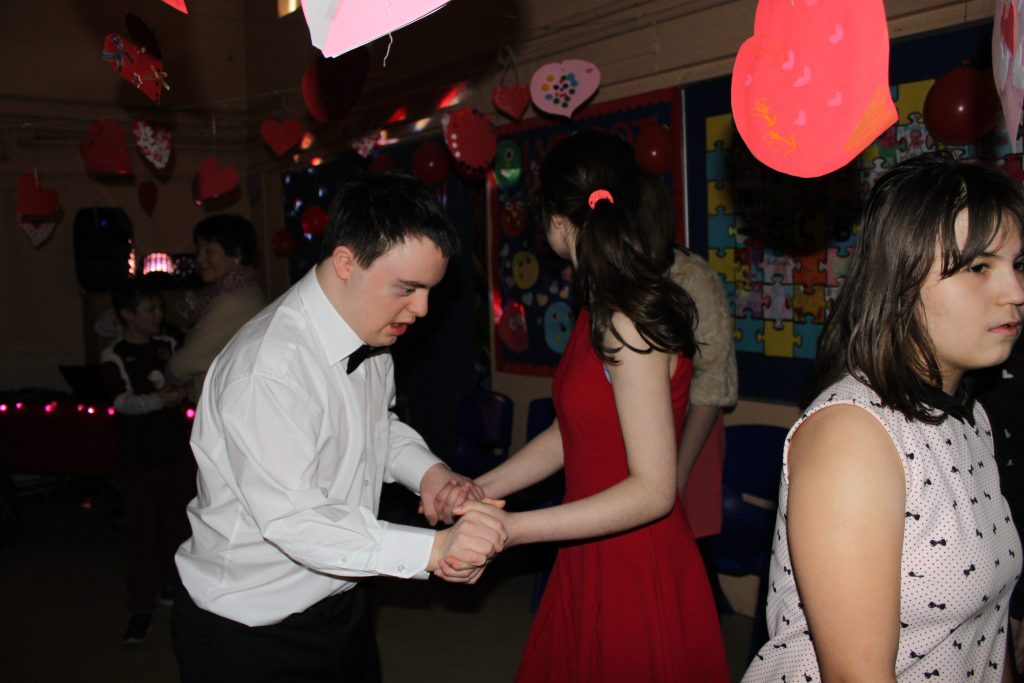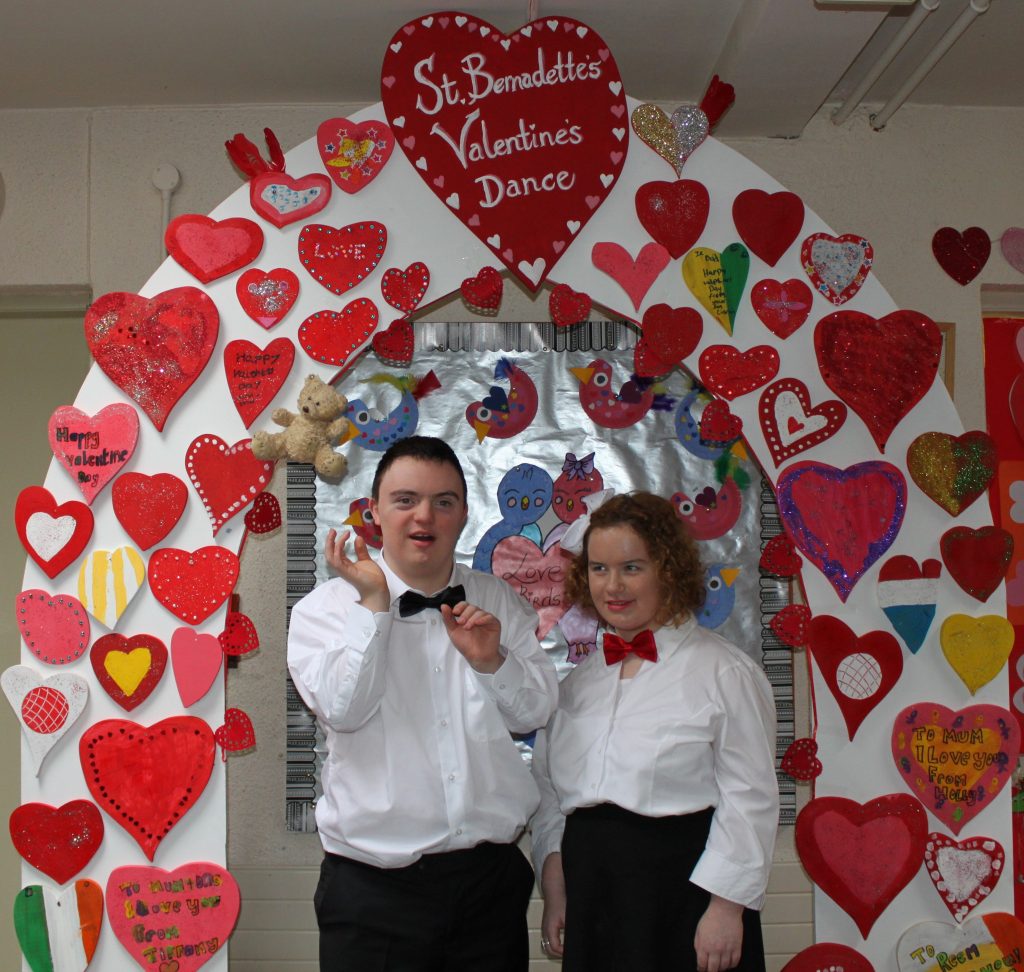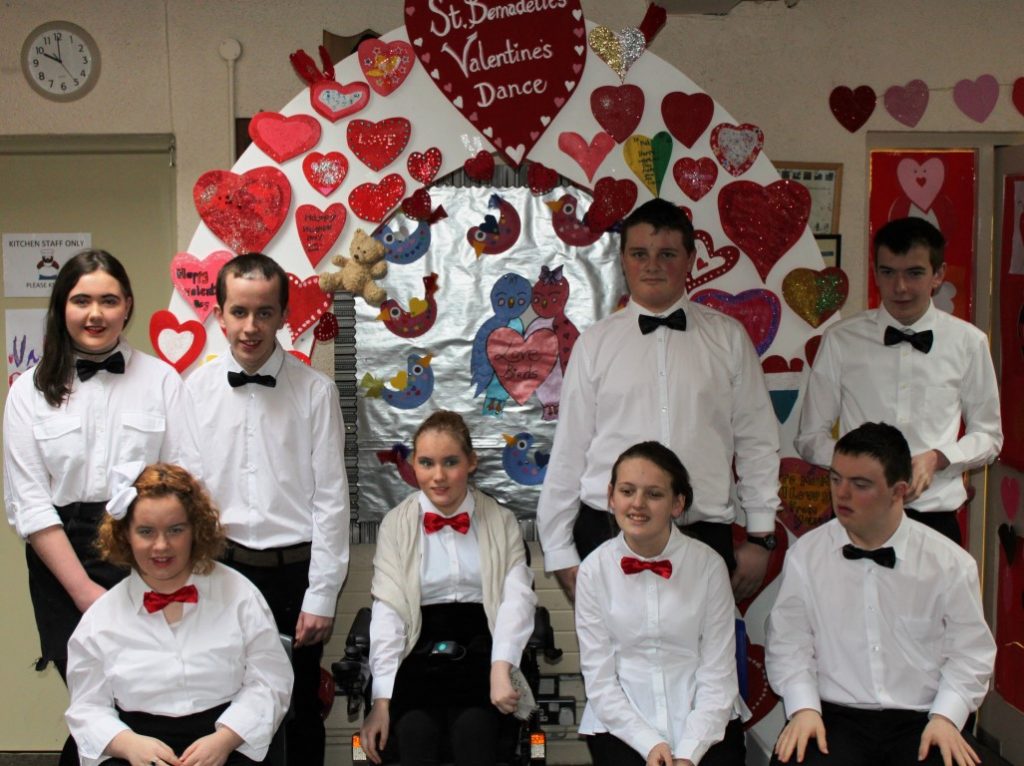 THE VALENTINES DANCE
On Wednesday the 14th of February was the day of the St Bernadette's Valentines Dance.
On that day I was wearing a white shirt, black tights, a black skirt and a black bow tie.
The first thing we did to decorate was we made valentine cards and glass jars,
They looked lovely. Mr Richards helped us with the kissing booth sign. Homebase helped us too.
How we got organised?
First, we made love hearts in Mr Richards class.
A few days afterwards we rang the Dj Anthony.
Dean Coyle helped us out on that day.
We made bags of kisses and made our Puppet DVD show.
I designed the tickets, they sold for £2.00 each.
We also made hanging hearts and put them up in the hall.
On the day of the dance we were very busy, myself, Catherine M and Rebecca worked on the Bar table. We gave out cups of punch to everyone.
Ryan gave me a beautiful necklace because I was his date.
I really liked that day, It is a day I will always remember.
A special thanks to Mr Richards, Mrs Bonner and Homebase for all the help they gave us.
By Catherine Norcott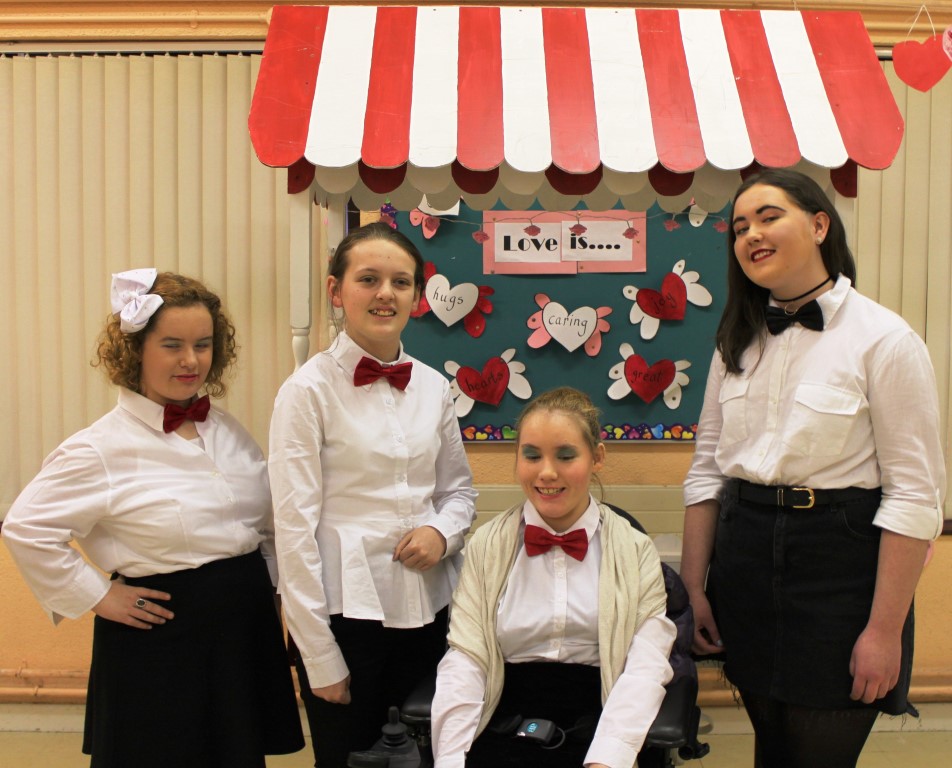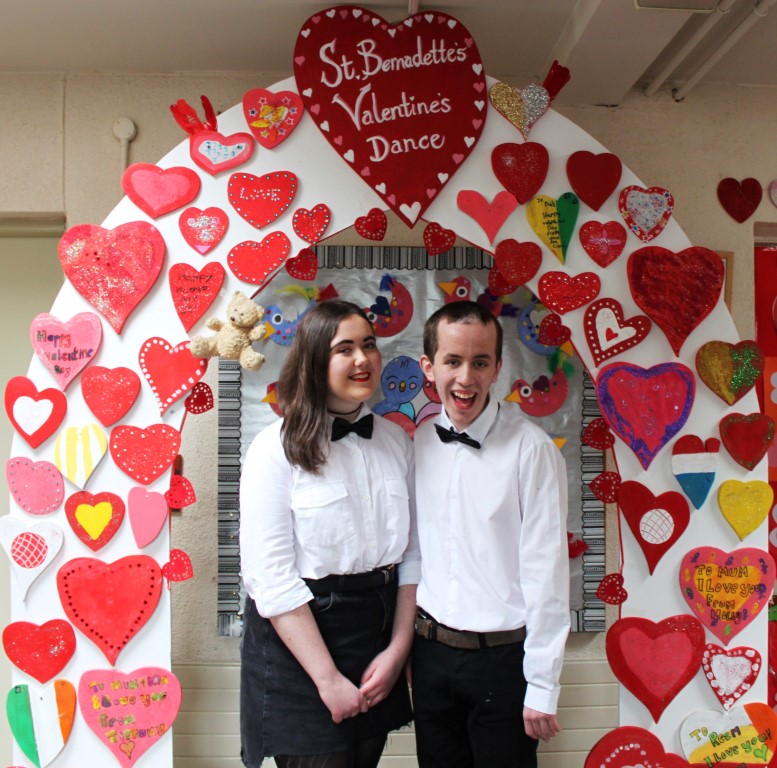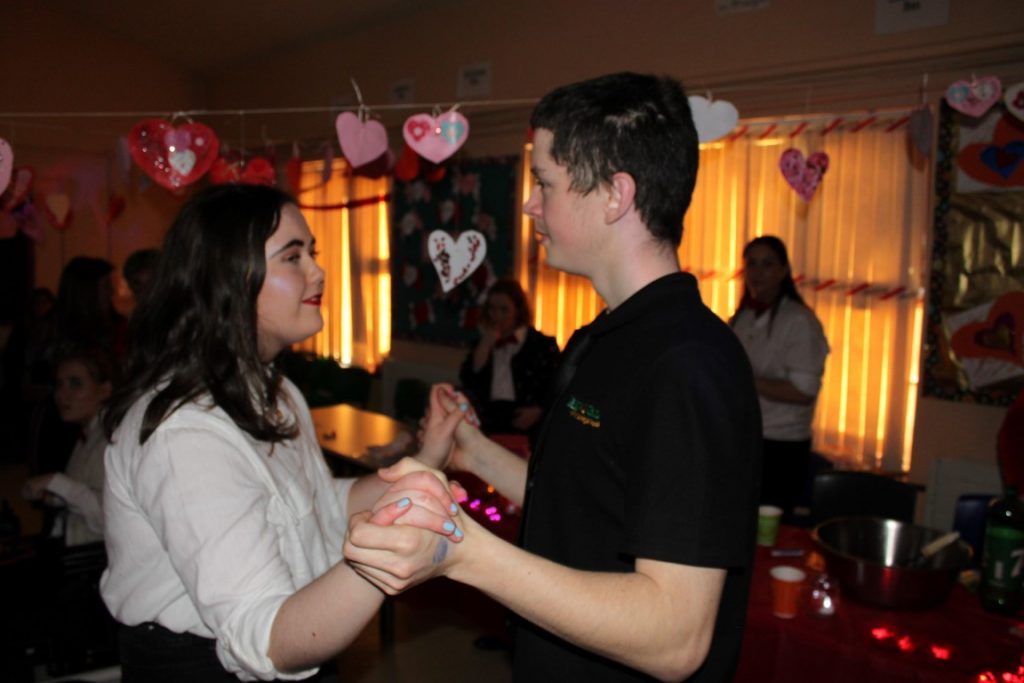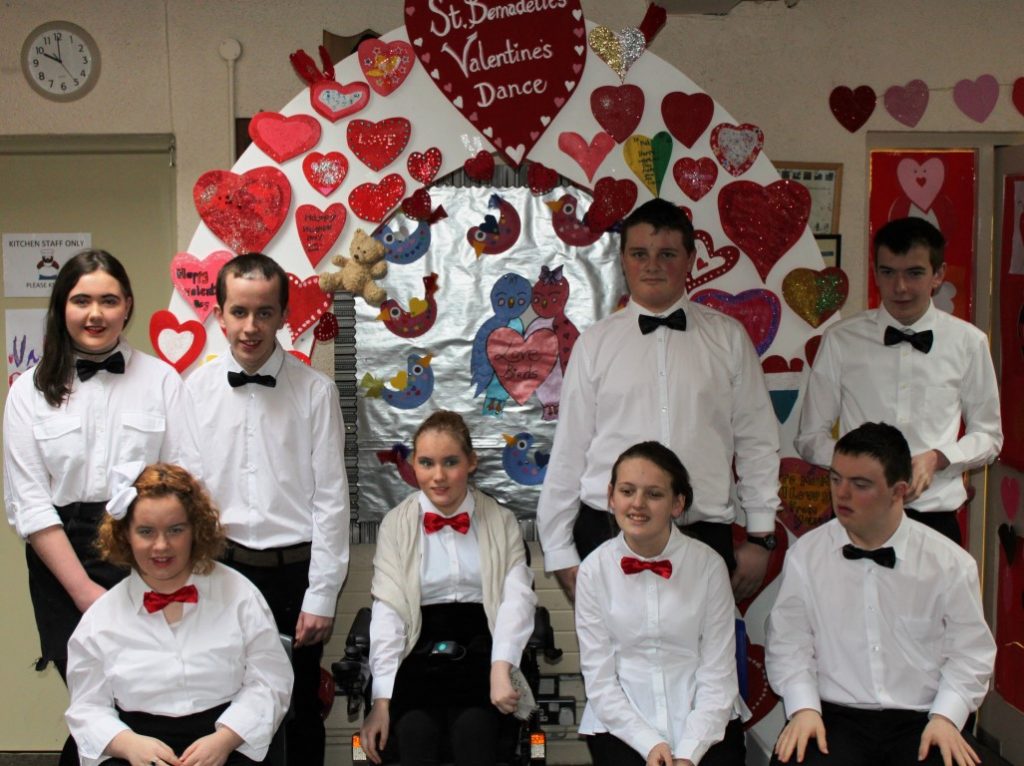 THE VALENTINES DANCE
The valentines dance was on Wednesday 14th February
To get ready for the dance we decorated the hall with a lot of love hearts, Mrs RedmondS class helped us .
We decorated the kissing booth that Mr Richards got us.
We made hearts for the photo arch.
We made glass jars and decorated them.
I used lots of glitter.
We made valentine cards.
To prepare for the dance we made bags of kissses and we hung hearts and made valentines cards.
We made a dvd about asking a girl or boy to the dance.
Catherine Norcott made tickets and designed them, we sold them for 2 euro each.
Mr Richards made us a photo arch.
Mr Mc Dermott helped us with the strings in the hall.
We went shopping for lights and goodies.
Homebase gave us free wall paper.
Thanks to Mr Mc Dermott, Master Harrans class.
And Miss Redmonds class for all their hard work.
Thanks to Mrs Bonner for letting us put on the dance and Mr Richards for the lovely creations.
Thanks to Bridie for the lovely baking. She made yummy stuff.
Thanks to every one of you lovely people in this school……..
Hope we have another big party in this lovely class.
By Catherine McGinley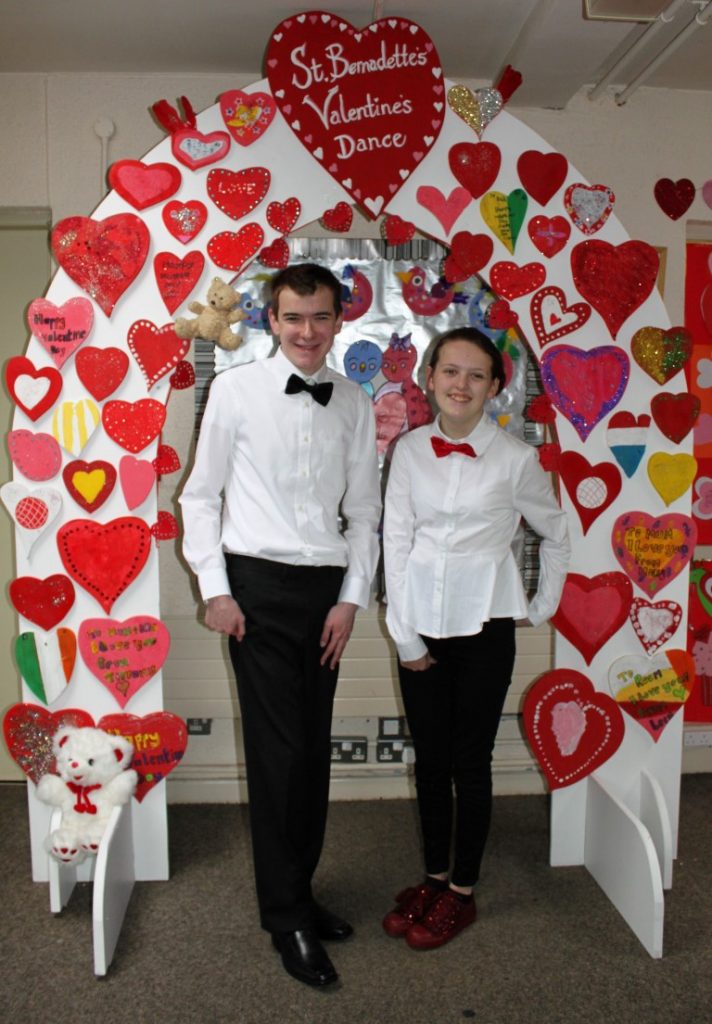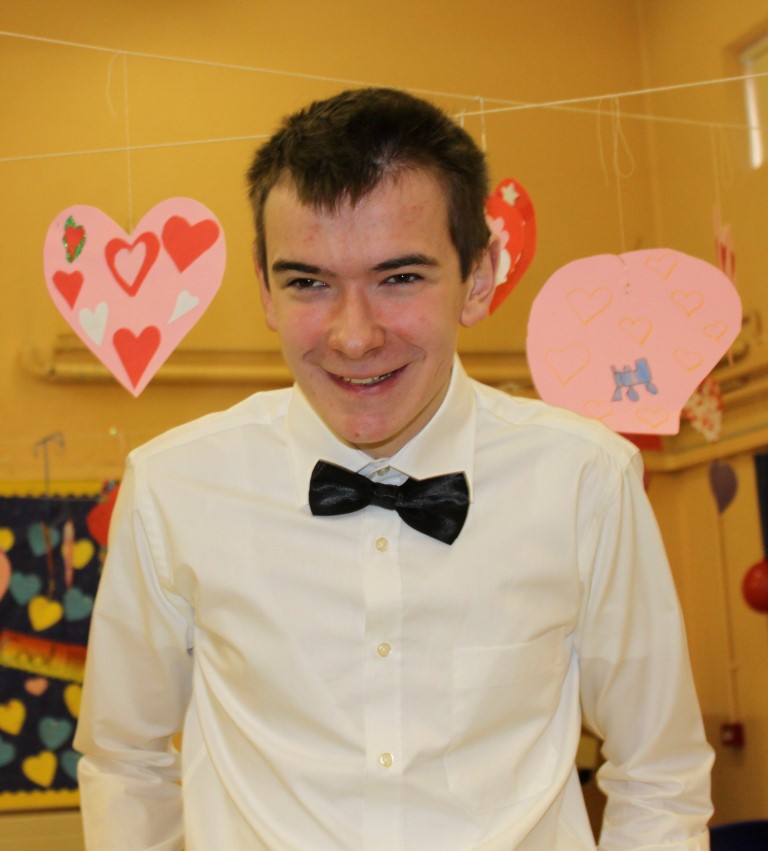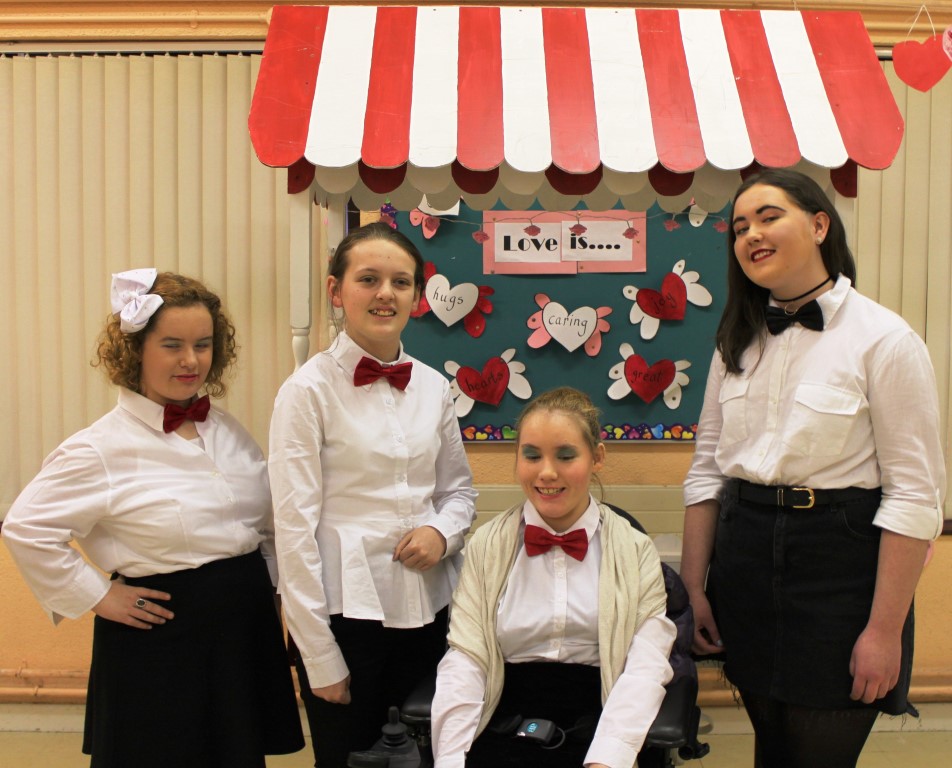 THE VALENTINE DANCE
We made punch with orange juice, apple juice and 7 up.
We made bags of sweetie kisses, we put wall paper that homebase gave us on the windows to darken the hall.
We made hearts to decorate the hall.
We rang and booked DJ Anthony.
Mr Richards made a kissing both and a photo arch for us.
We made and painted wooden hearts to decorate the arch.
Miss Hamilton and Emma Took Photographs of everyone under the arch.
Catherine Norcott made tickets and we sold them for 2 each.
The doormen Gordon, Kyle and Dean. They collected the tickets and Stamped everyones hand.
My Self Jessica and Marie, Catherine N and Catherine M worked on the bar table.
By Cian O'Mahoney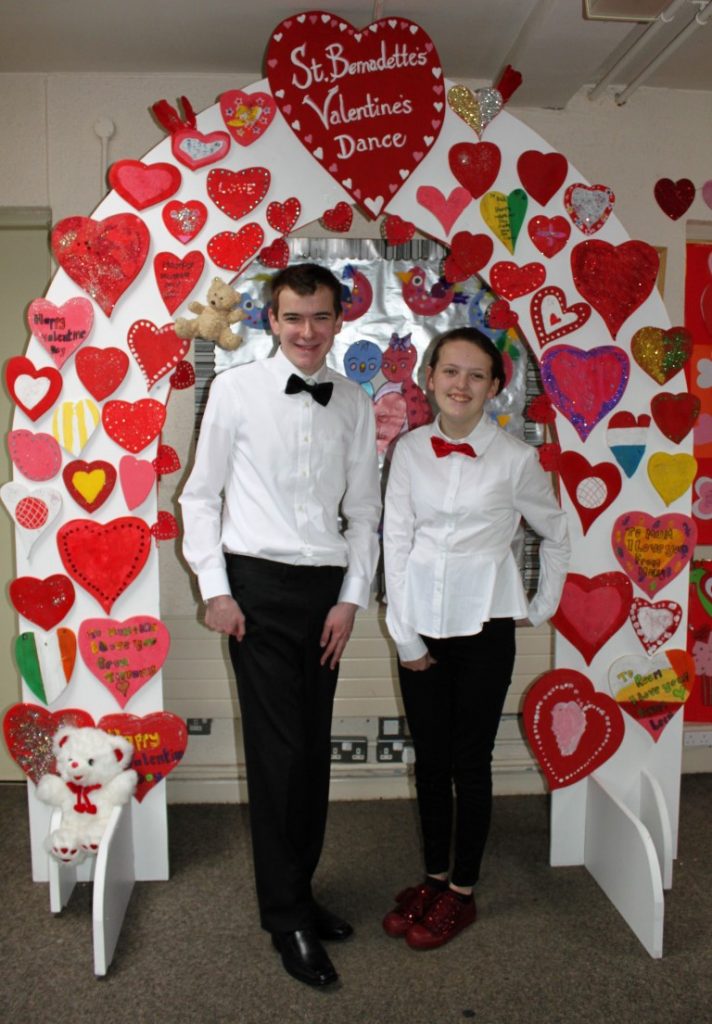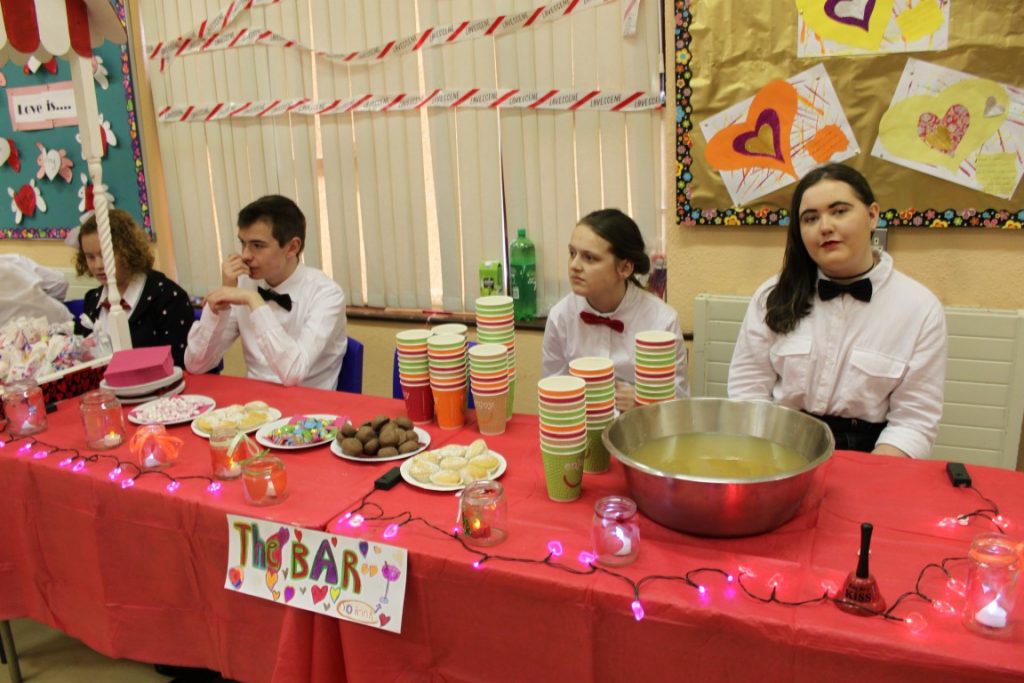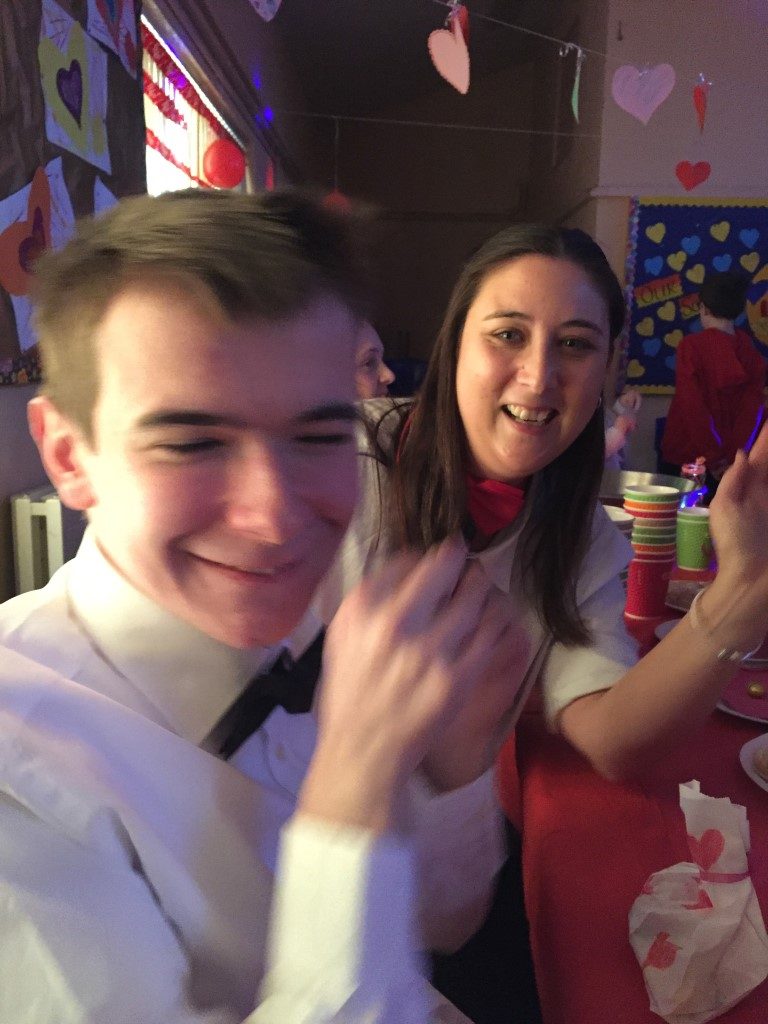 The Valentines Dance
On Wednesday the 14th of February our class held the school Valentines dance.
We got some Wallpaper from Homebase to blank out the windows in the hall.
Mrs Mc Aleese's class made a Valentines post box for us.
Our class wore Valentines clothes. I wore white shirt and black jeans and black shoes.
Our class made fruit punch. We put Apple juice and 7up in the punch. It was nice.
In woodwork Mr Richards made Valentines hearts for us and got us the kissing booth.
We were doing jobs. Myself, Gordon and Dean were the door men. The people who worked on the bar were Cian/Catherine and Catherine Norcott and Jessica.
Miss Hamilton and Emma took the photographs for us. Master Mc Dermott hung up the hearts and string in the hall.
Our class made bags of sweets.
Mrs Bonner rang Anthony for the DJ.
Catherine Norcott designed the Valentines tickets for 2.00. Some of our class went out shopping for treats. Bridie made us cakes and buns for us.
Thanks to Mrs Bonner / Mr Richard / Miss Hamilton / Homebase / Bridie / Anthony / Mrs Mc Aleese's class and Master McDermott too.
I enjoyed the day.
By Kyle Thompson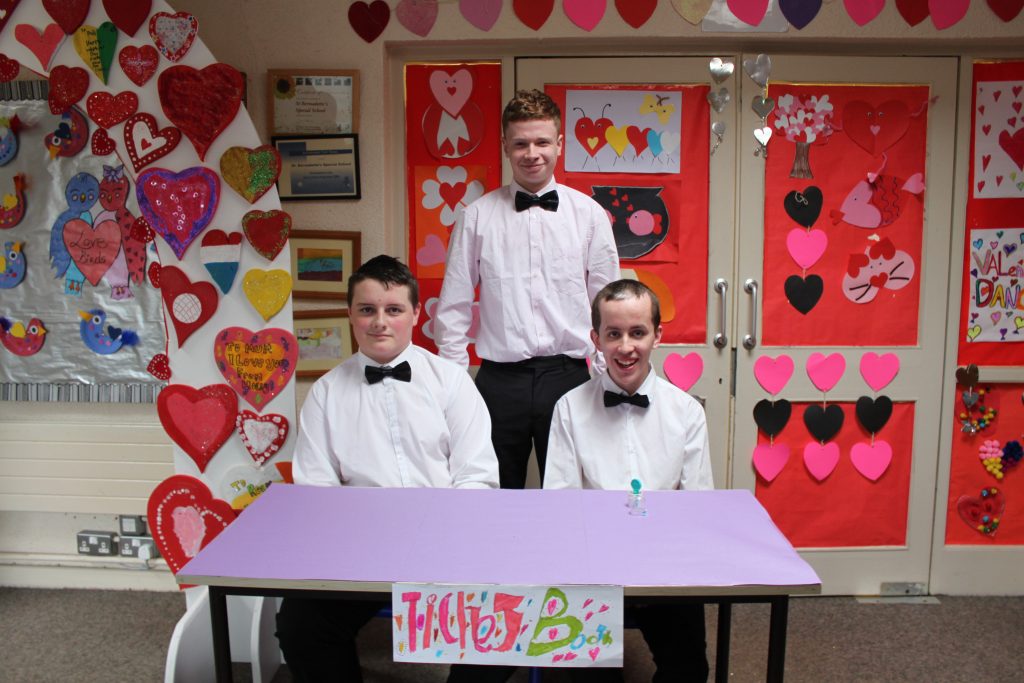 CHRISTMAS CARDS
We made some beautiful Christmas Cards to sell in Tasty Treats. Everyone worked so hard as a team to have these ready for Thursday.
The Halloween Party 
Our class went shopping for the dance.
I made Harley Quinn lanterns for the Halloween party.
Mr Byrnne and Cian and Master Dermot helped with the decorated at the party.
I dressed up as Harley Quinn at the Halloween party.
By Emma Gildea
The Halloween Party 
We made Halloween Jars , we painted some and glued on tissue paper and googly eyes then we put led lights in the Jars they looked scary.
We went Shopping at Lidil to buy Halloween sweets and crisps.
We used the guitar case as a coffin Catherine made a scary vampire and Marie made hands we put the sweets in the coffin.
I dressed up as a evil hedgehog. It was a Fabulous day.
By Cian O'Mahoney
The Halloween Party 2017
On Thursday 26th October 2017 our class held a Halloween dance for the whole school. It was a fabulous day.
 For our DJ Ms Dunne rang Anthony for the day.
 Myself/Dean/Catherine/Gordon/Cian/Shaun/Master Byrne /Ms Redmound's class and Master Haran's class all helped to decorate the hall.
 Master Mc Dermott done the high windows for us and we done the lower window's.
We had a bar. Myself/Gordon and Master Byrne worked on the sweets and drinks table (bar).
 I wore a Manchester UTD shirt.
 It was a great day.
 By Kyle Thompson.
Our Halloween Dance
On Thursday 27th November our class held the Halloween dance.
We had to do a lot of work to get it ready.
We went shopping for Tasty Treats and the Halloween dance.
We got sweets and crisps for the children.
We made Halloween jars. We put in them LED lights-they looked spooky.
We got helpers to help us put up decorations in the hall. Mr Haran's and Miss Redmond's classes helped too.
Catherine Norcott made a terrifying vampire for the coffin with sweets in it.
Emma dressed as Harley Quinn and I was a pretty skeleton, and we partied all day long.
By Catherine McLoughlan
Our Fabulous Halloween Disco
On Thursday 26th October 2017 our class held a Halloween dance for the whole school.
Ms Dunne rang the DJ – Anthony and arranged it for Thursday 26th October 2017 from 1pm – 2pm.
We went to Lidl to get some Halloween goodies like sweet's and crisp's.
We decorated some glass jars to make Halloween Lanterns.
We painted and glued tissue paper and Catherine's mum sent in the eyeball lights into school.
We decorated the hall with the Halloween pictures and painted the walls with scary writing.
We had a few others helping with the Halloween dance. They were Dean, Shaun, Mr Byrne, Mr Mc Dermott, Master Haran's class and Ms Redmond's class.
I was dancing most of the time it was great. I was dressed as a normal boy.
Then I was helping Kyle and Mr Byrne with the bar. I told the other children they are allowed sweets one each, then I told them to put the wrappers in the rubbish bag.
All the teachers and children had a fantastic time at the disco.
By Gordon Wilson
THE HUB
On Wednesday the 15th Of November 2017 Mr Haran's class and Mrs Silva's class went to the hub for their open day. We painted tiles for their wall about community inclusion. We all enjoyed painting the tiles. We even got sweets.
Here are some of the lovely tiles the students painted.
MY BEST DAY OF 2016/2017 by Ronan Robinson 
My best day of 2016/2017 was when I went to Monaghan with Maksims and the team.
I liked it because it was funny coming back on the bus.
Maksims thought he heard noises coming from the back of the bus
He asked Mr McDermot could he move up the bus.
Mr McDermot said stay where you are.
I thought it was funny Maksims was so nervous he wanted to get off the bus walk home.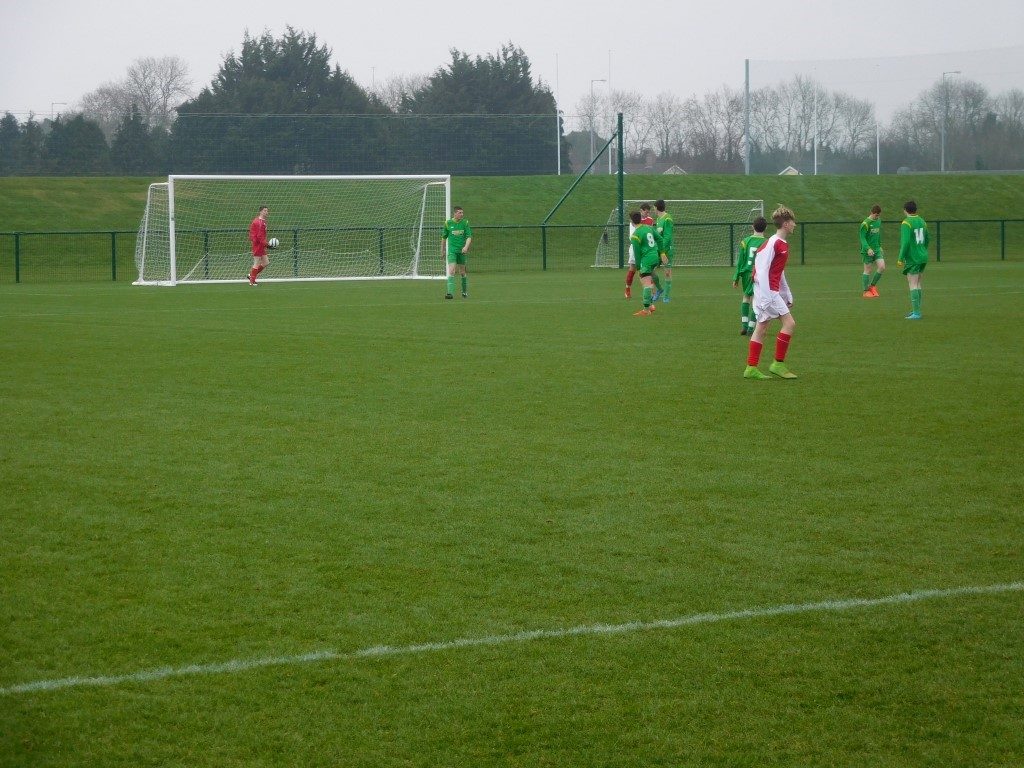 MY BEST DAY OF 2016/2017 by David Fitzsimon's
My best day of 2016/2017 was
my birthday party.
I had lots of fun with my friends
I had beautiful food to eat and
I had chocolate cake.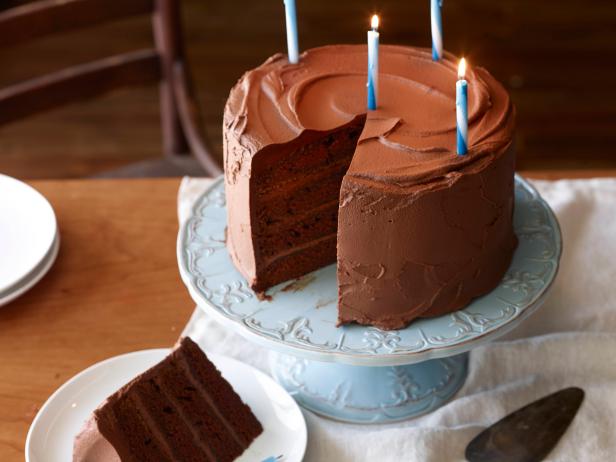 MY BEST DAY OF 2016/2017 by Robyn O'Rourke
My best day of the year was the summer concert.
I loved it because I loved getting dressed up in the red dress that Mirren and Brodie lent me.
I wore a red Jo Jo bow in my hair. I looked beautiful.
Mum and Richard watched me singing with my class. They were very proud of me.
We were the best performers ever. I loved every minute of that day.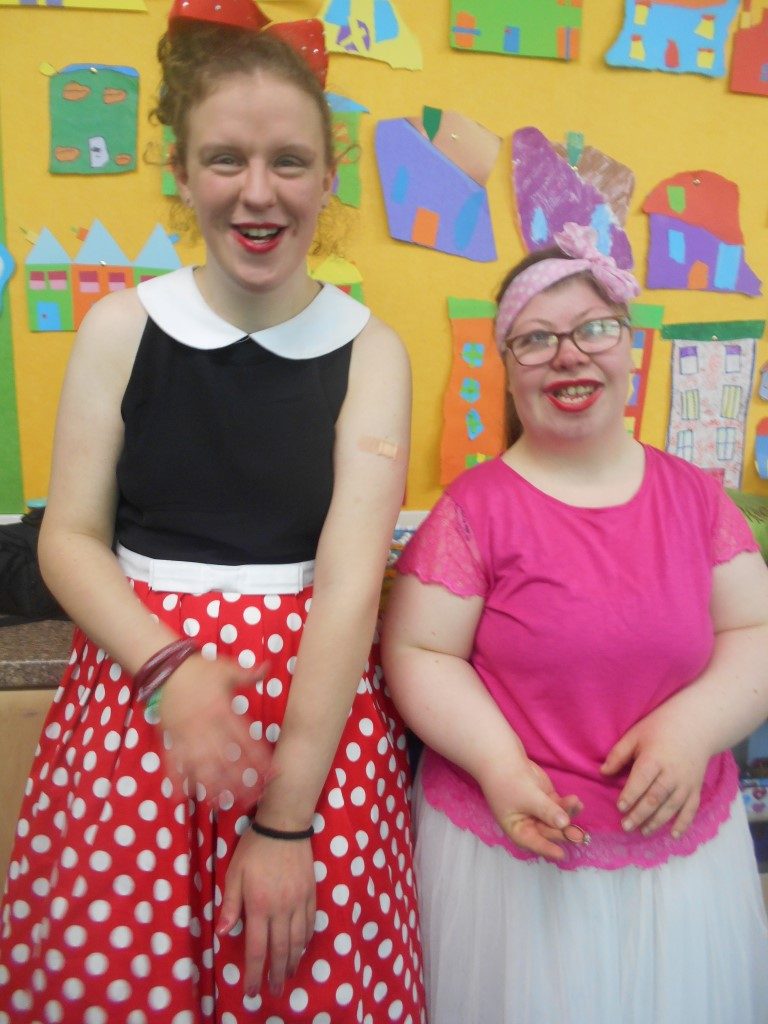 MY BEST DAY OF 2016/2017 by Maksims Kalinina
My best day at school this year was when we went to Derry on our
School tour.
I liked going around the shops with Dan.
I liked getting my Iunch In McDonalds.
It was a good day.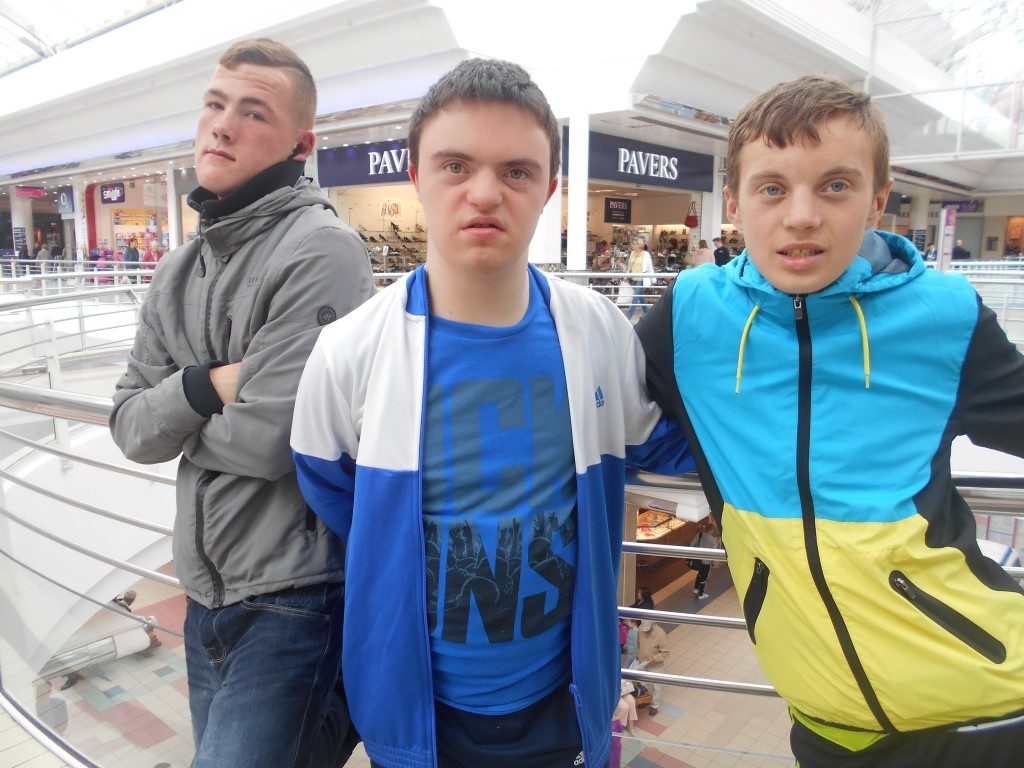 MY BEST DAY OF 2016/2017 by Brendan Gallagher
My best day of 2016/2017 was our Summer Concert because Mummy and Daddy came to watch me.
Mummy and Daddy videoed the show.
I told the story of The Three Billy Goats Gruff, and I sang Woody's Roundup from Toy Story 2.
I also sang Summer Loving from Grease with the rest of my class.
It a brilliant show and my favorite day.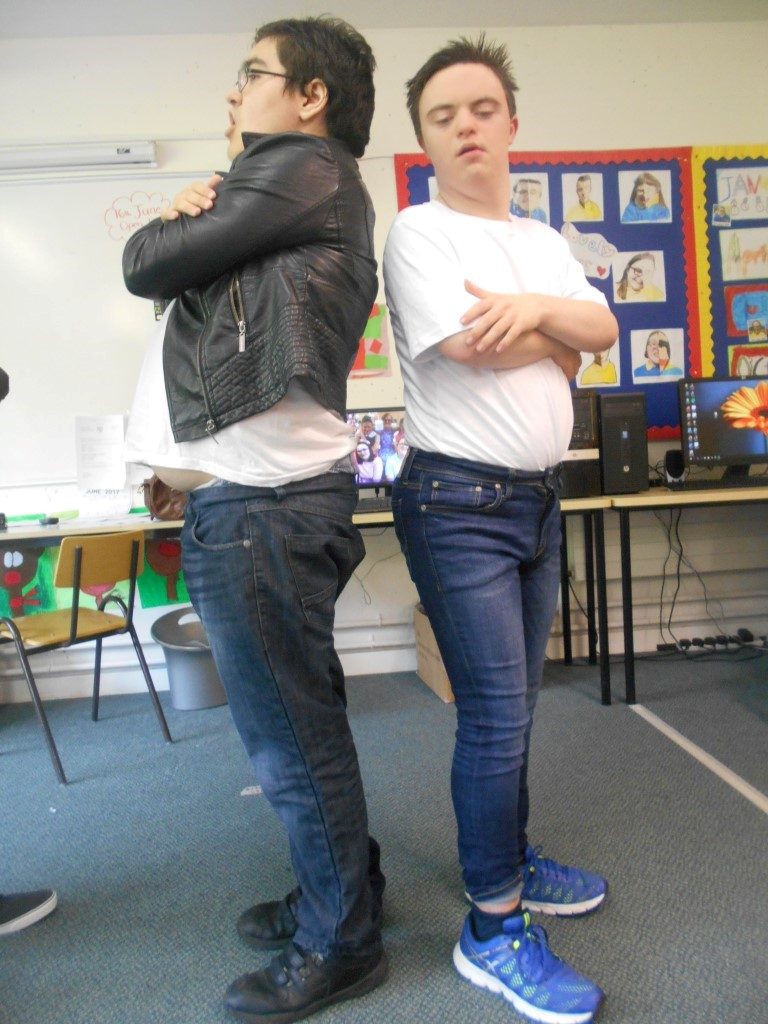 MY BEST DAY OF 2016/2017 by Victoria Hamilton
My best day was hanging out with my friends at Robyns' birthday party.
It was good fun and I had a good day.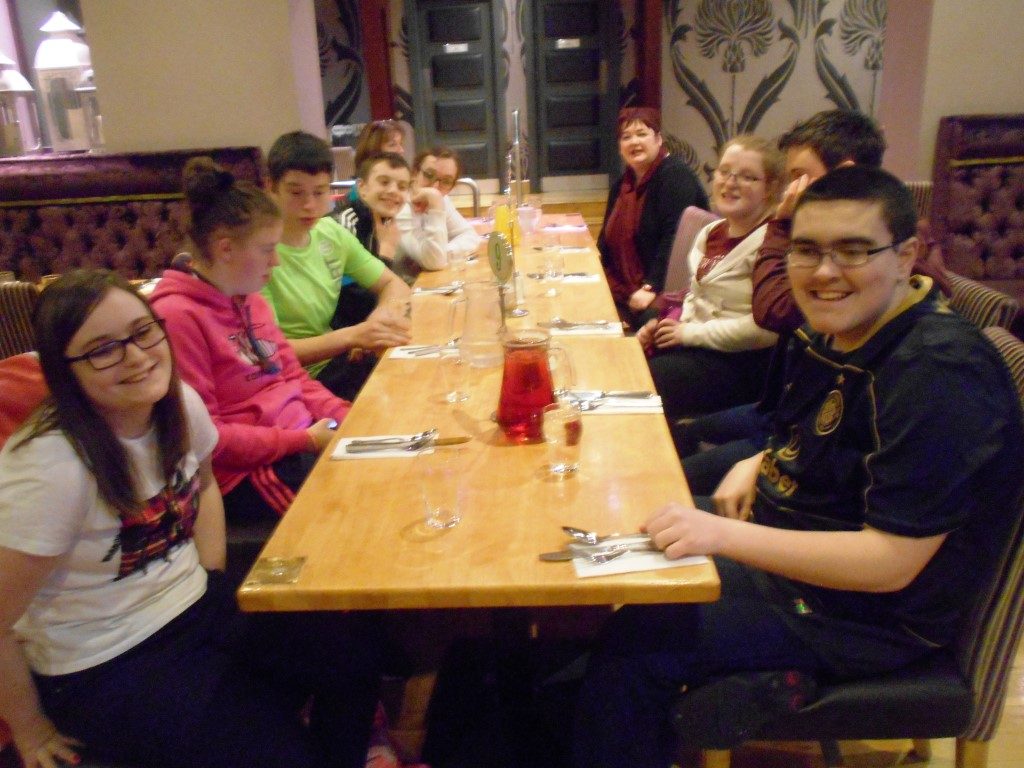 MY BEST DAY OF 2016/2017 by Ellen McLoughlin
My best day of 2016/2017 was my birthday because I had a pizza party.
After that we went to the park and before we went to the park we went to rockets for ice cream.
I got strawberry ice cream.
It was a very funny day because Mrs McFeely's ice cream melted on the way to the park and she had to drink her melted ice cream.
When we got back to school Robyn flicked some of her ice cream in my hair and I got mad.
I was so happy that day.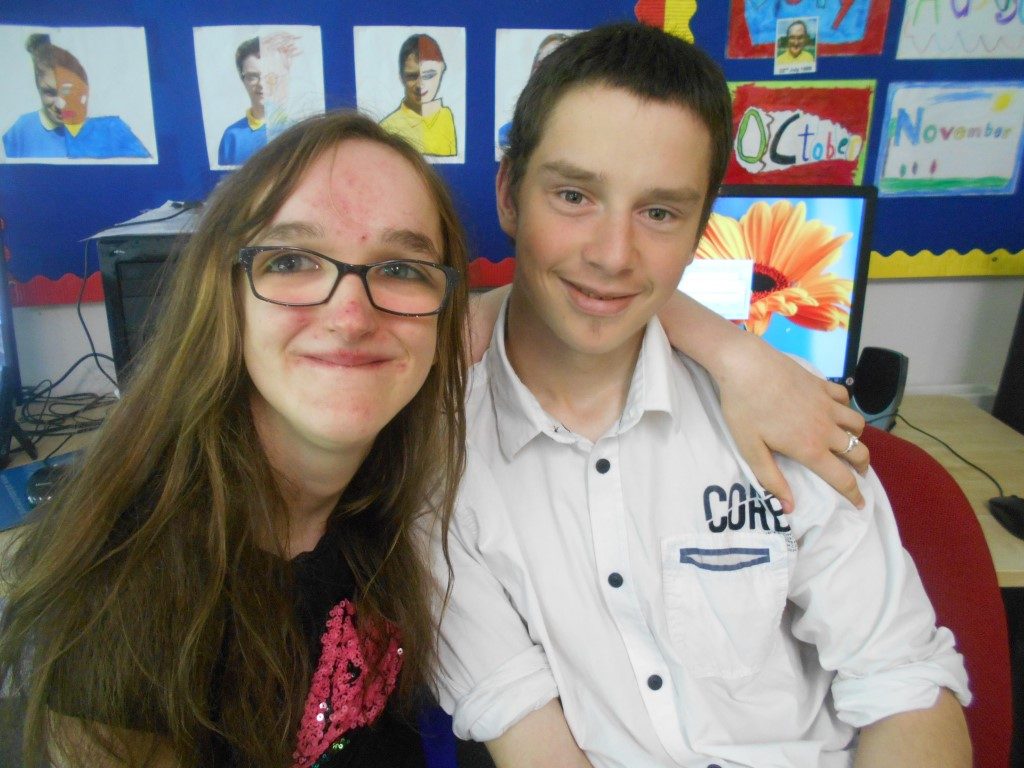 WE MADE BUTTER TODAY.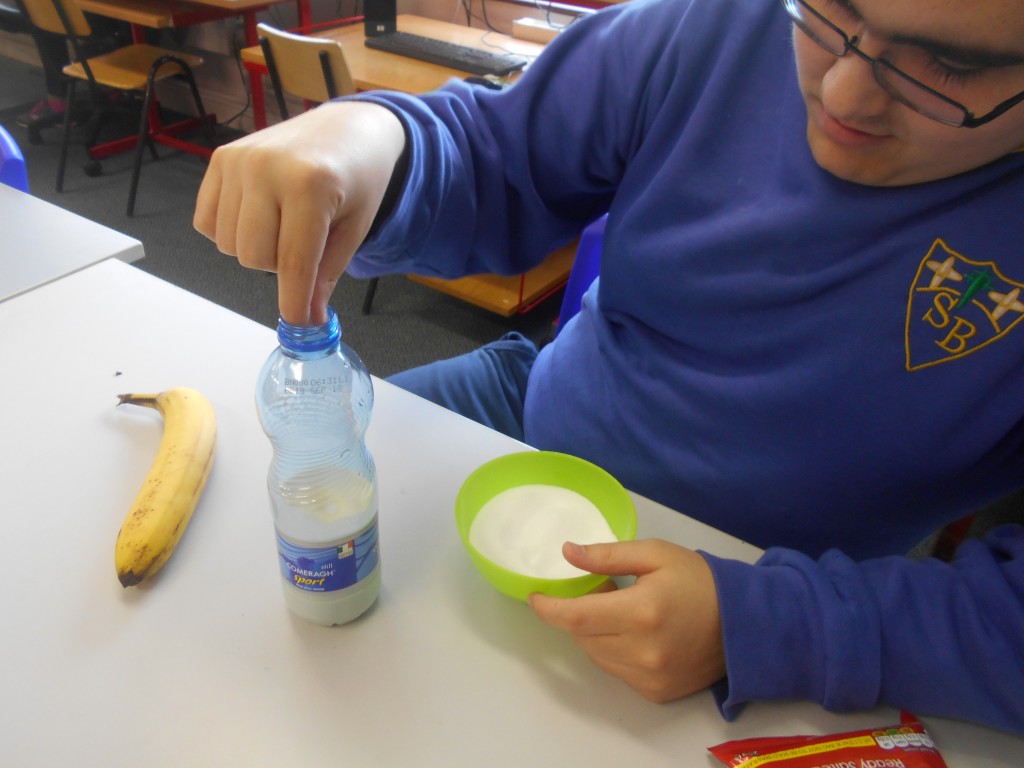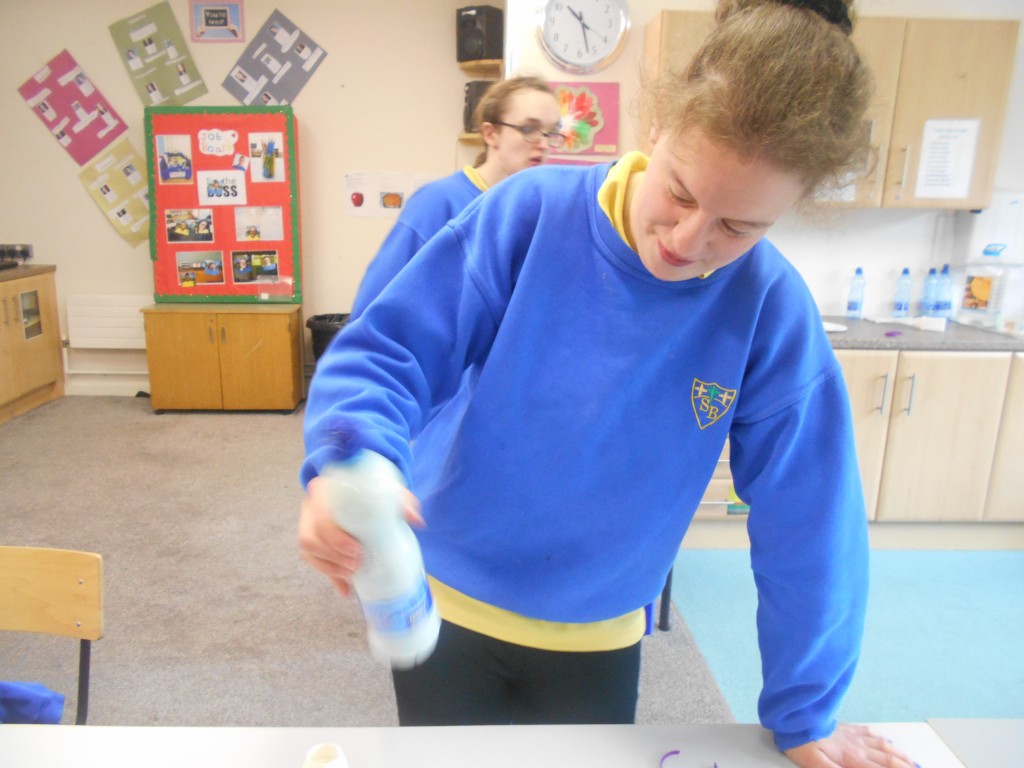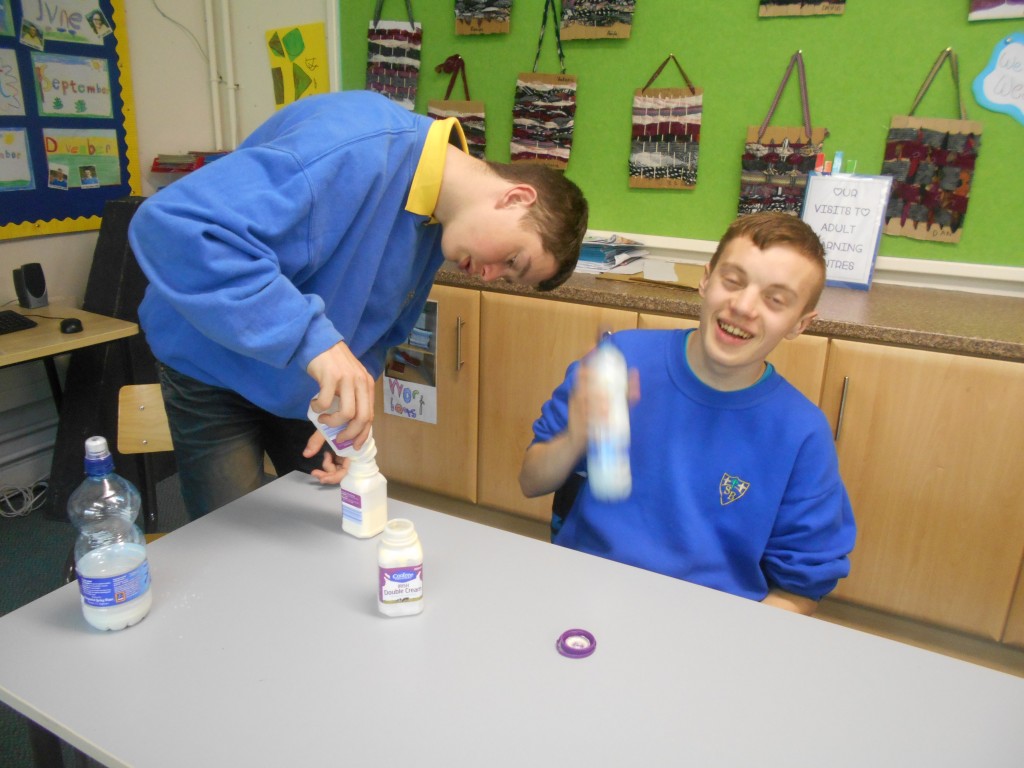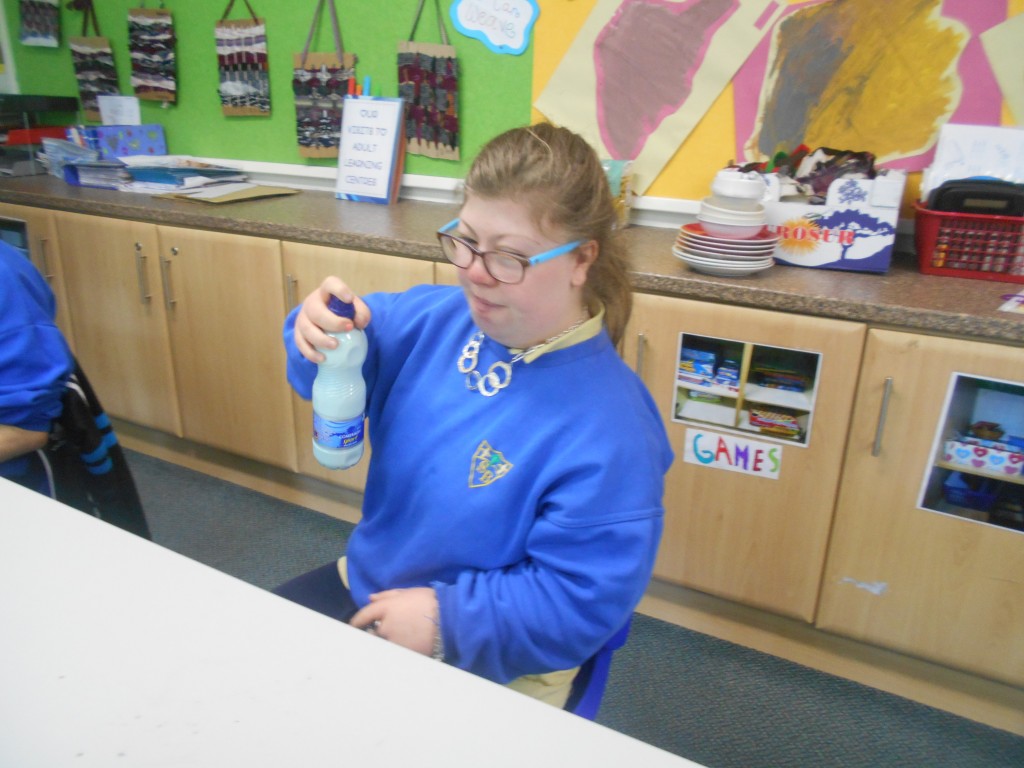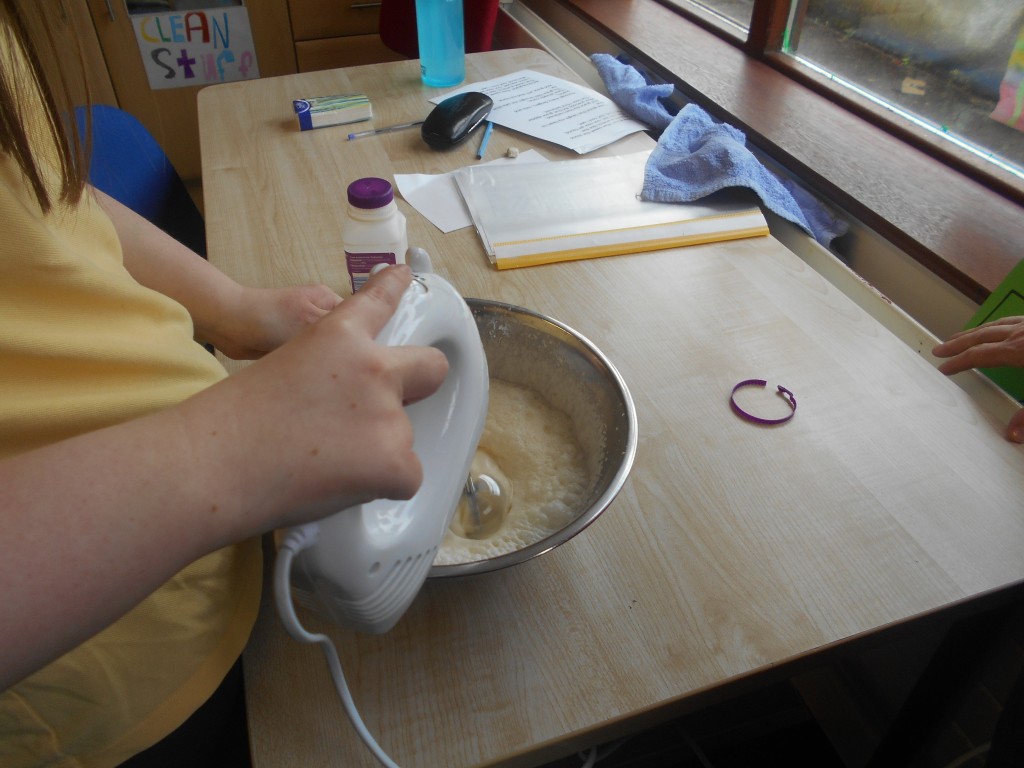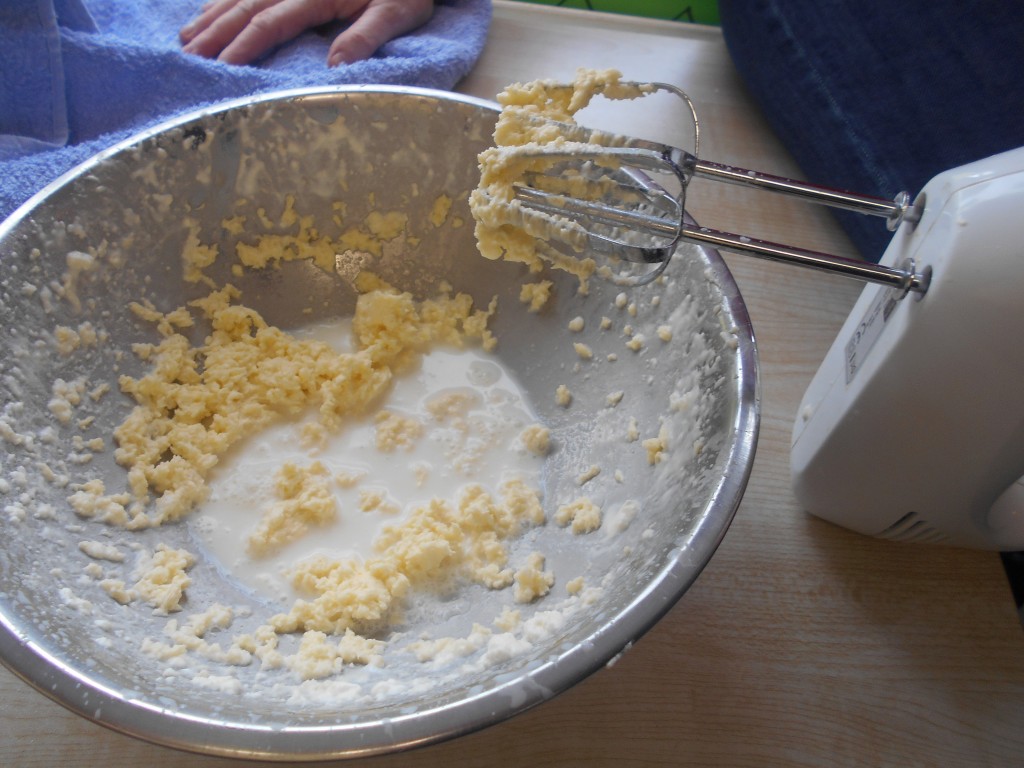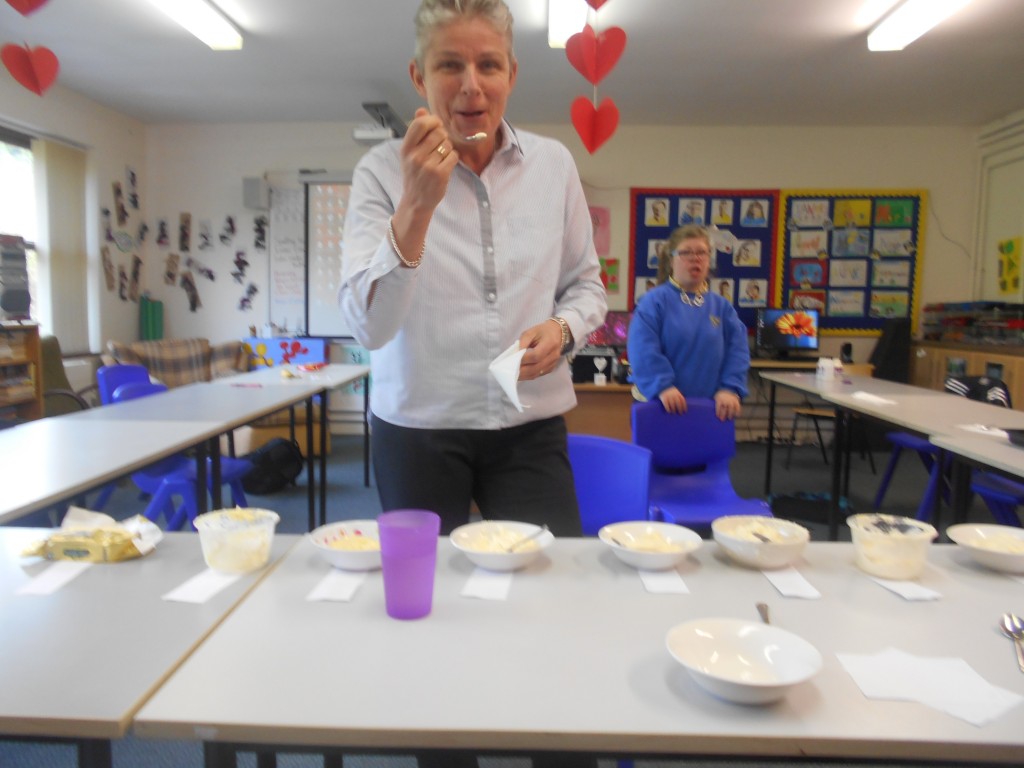 WHICH DO YOU LIKE THE BEST?
OUR VISIT TO THE NLN
BY ELLEN MC LOUGHLIN

On Wednesday 8th of march we went to the National Learning Network in Letterkenny. The NLN provides adult education for students of all abilities. It was nice to my old friends again, Jason, Carly and Dean. They looked happy there.
It was very lovely when we arrived there, the staff were very friendly and kind.
One boy from the Ice group made a lovely wooden train and it looked fabulous.
The girls in the girls group were doing some tie dying, it looked like fun.
Then we went to the lunch room, a girl called Tara was chatting a lot and told us about her course.
Overall it was a lot of fun and it was a very enjoyable and interesting day out.
My teacher Mrs Silva was very impressed to hear how they were chatting so confidently.
 WEAVING MARCH 2017
Mothers Day Cards
MOTHERS DAY GIFTS THANKS TO MR RICHARDS OUR WOODWORK TEACHER
SENIOR ONE 2016/2017
We have new staff in Senior One this year as Mrs Surpless has moved across to the Autism Unit instead of Mr Haran.
Mrs Silva is now teaching in Senior One with the lovely Mrs Toye and Mrs McFeely assisting!
We have been busy doing work for Christmas, have a look at our reindeer pictures!
HAVE A LOOK AT OUR LITTLE CHRISTMAS TREES
HAVE A LOOK AT OUR ELVES
Paintings