Our Students Set-Up A Community Recycling Service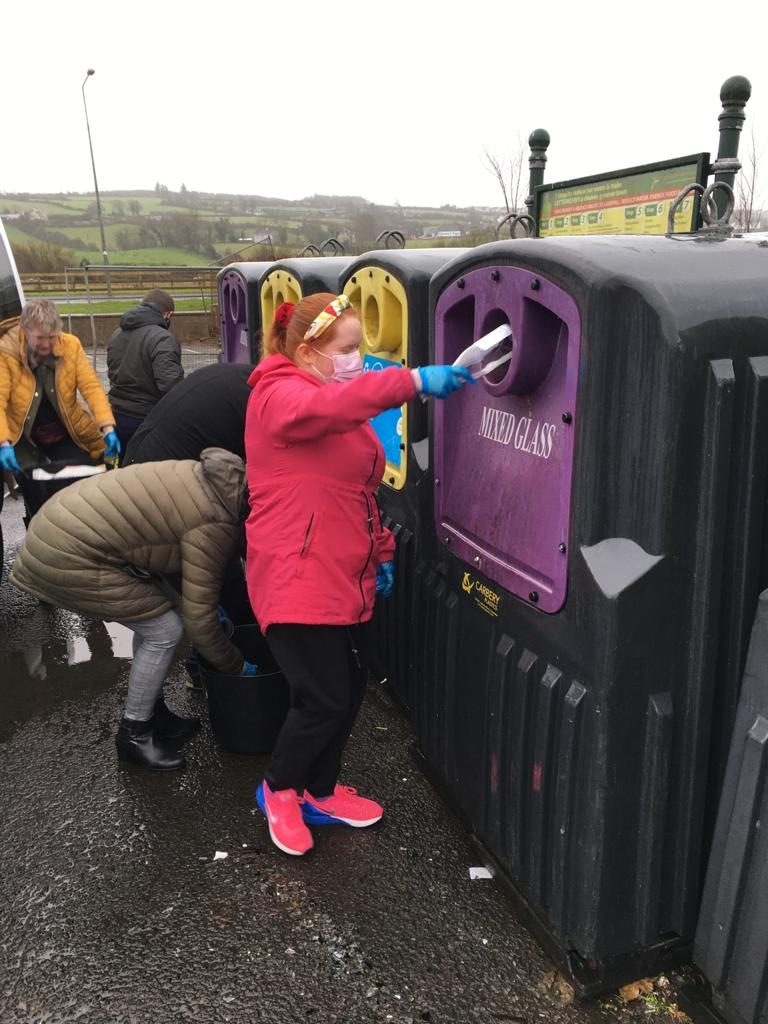 A core part of the curriculum for our senior students in St. Bernadette's is practical work placement. However, with COVID restrictions we had to look for other hands-on experiences to help the students complete the module and learn valuable and practical insights into the working industry, and that's where the idea of a community recycling service was born.
The students came up with an innovative idea of a local recycling service where they would visit local homes to collect recycling and take it to the centre for a small fee.
In operation since November 2020, the recycling service from St. Bernadette's drops containers to customers in local estates on Mondays which is then collected on Tuesdays. The students charged €2 for small electrical items and €2 for all glass and tin items which were then taken to the recycling centre by the class.
Senior students at St. Bernadette's Special School typed up letters and designed posters to get their mini enterprise off the ground, which they dropped to local estates to help spread the word:
The recycling service was of great benefit to the local community as well as our students as the young adults got to build their confidence and communication skills by engaging with locals through weekly calls, texts and socially distant meetings during collection times. The class split the profits equally among themselves and we'd like to thank everyone in the community who supported the initiative.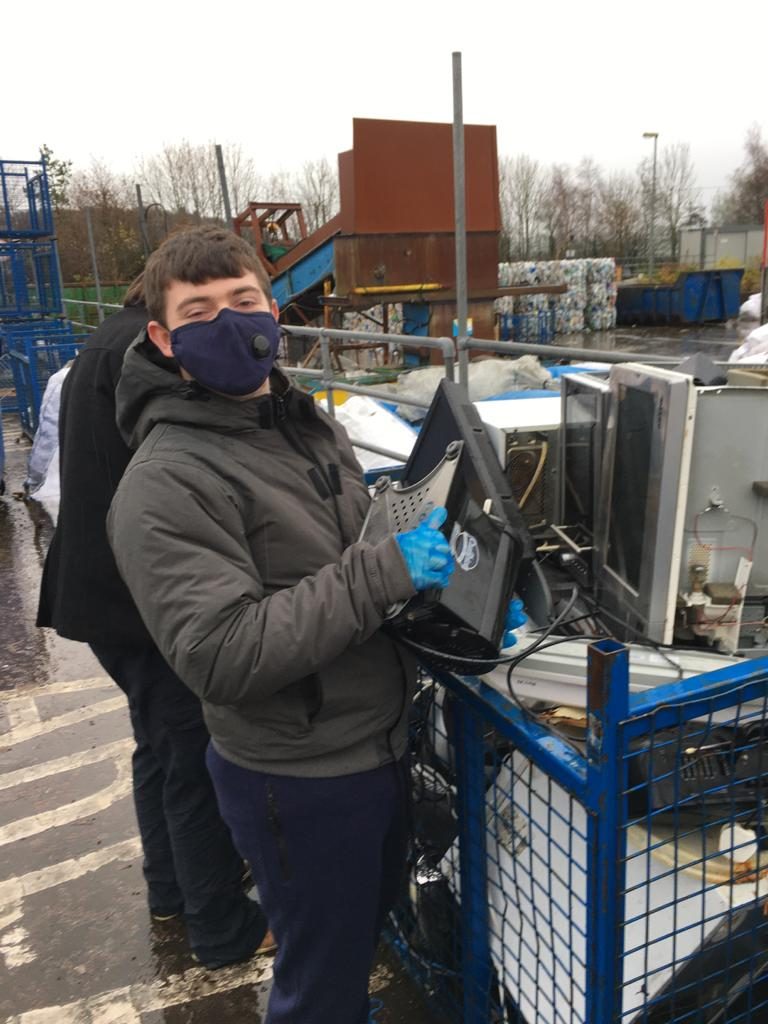 The St. Bernadette's Special School recycling centre project has finished for the school year but will be starting again in September for eager students. For more information visit stbernadettesschool.eu or call the school on 074 9122512.
Thanks to Donegal Democrat for featuring the story in the local paper and online. You can read the full article HERE.
OUR LOVELY LEAVERS
Congratulations to Corey and Kylan from our Senior 3 class who are graduating from St. Bernadette's tomorrow.  We wish them best wishes going forward and hope to have them back very soon for a proper 'send off'!  Our warmest thoughts and highest hopes are with them, today and always.
Best wishes from all of us in St. Bernadette's.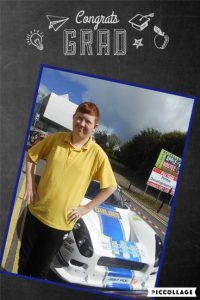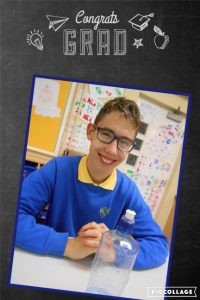 What a Difference a Year Makes
Time last year, our Senior school attended their first School Prom in the Station House in Letterkenny.
Take a trip back down memory lane with some of these fun snaps from the night.






Exciting Online FUN moves Initiative
Donegal Sports Partnership in collaboration with Move2gether & ICARE are commencing a new online FUN moves Programme.
To register for free, please click on the below link
http://funmovesdsponline.eventbrite.ie
FUNDRAISING FOR OUR SCHOOL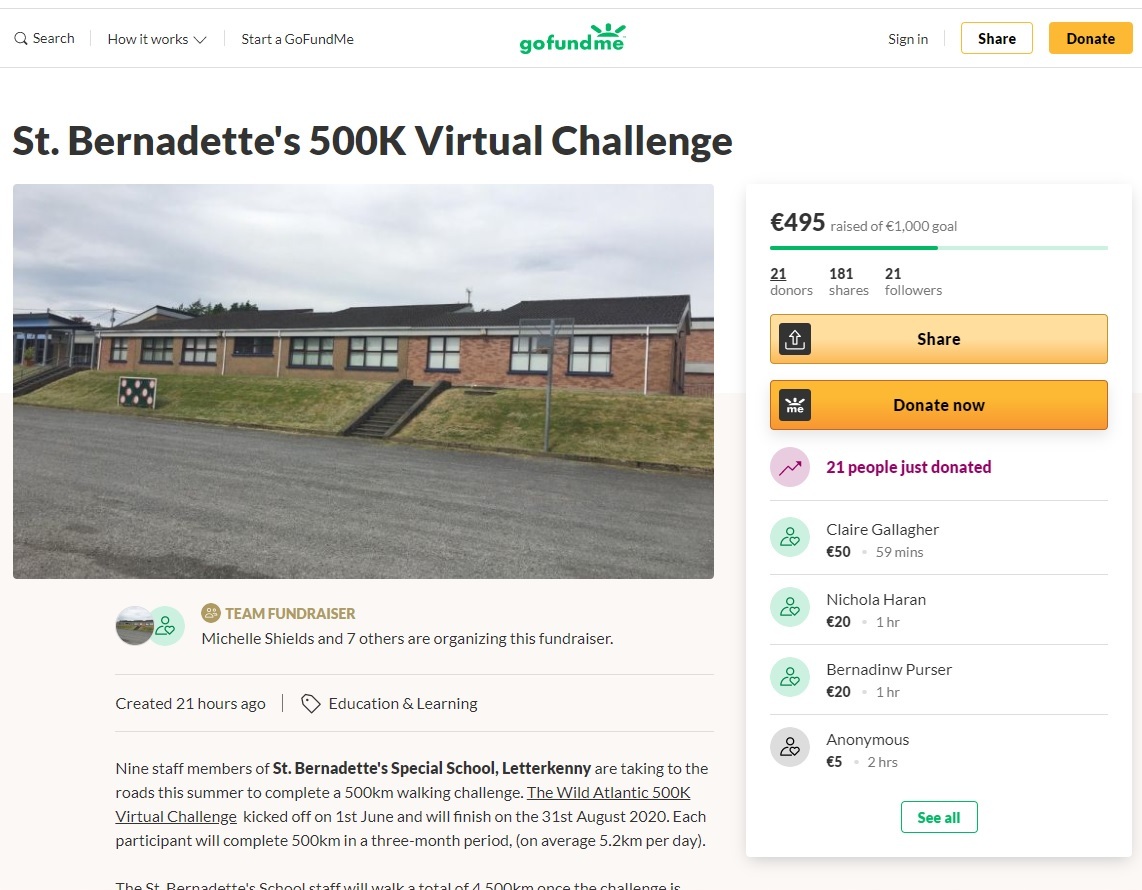 Look at what some of our super staff are doing to raise money for the school.
Its a virtual 500 km Challenge.
OUR SARAH LOOKS AFTER HER LOCAL COMMUNITY
Congratulations and well done to our very own Sarah McGurk, Senior 3.  Sarah has been spending her days in lock down helping to improve her local community by picking up litter around her area. Sarah was recognised for her efforts by Deele Community Anglers.  She helped lift litter along the riverbanks and roads of the Foyle and Deele river. The above picture won the prize as 'Litter Pick Winning Photo'.  She is pictured with her mum Róisin.  Keep up the good work Sarah…..we are so proud of you!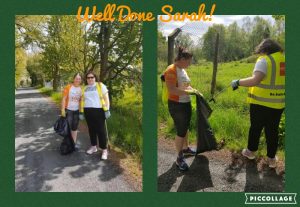 15k Cycle for Amy Alexander
A past student of St Bernadette's, Amy Alexander, is taking on a very different challenge during these strange times. She is going to cycle 15 kilometres on her new bike in order to raise money for Drumboe Respite Centre in Stranorlar. Many of our students, past and present have used Drumboe Respite Centre on a weekly basis so it is great that Amy is going to try her best to give something back to them.
Amy would greatly appreciate if you could all support her by clicking the link below and donating to Amy's challenge…
https://www.gofundme.com/f/15k-cycle-by-amy
World Autism Awareness Month
Every year in the month of April, people all over the world celebrate World Autism Month, beginning with World Autism Awareness Day on April 2nd.

Throughout the month, the focus is on providing opportunities to increase understanding and acceptance of people with autism. Hundreds of thousands of people wear BLUE to show their love and support for loved ones who have Autism.
Landmarks, buildings, homes and communities around the world come together on Autism Awareness Month, to LIGHT IT UP BLUE.
As we are all learning and working from home, the teachers had a staff meeting through video call and they all wore Blue to symbolise World Autism.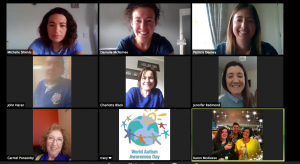 We look forward to sharing some images of the children wearing their blue clothing for World Autism Awareness Month!
Here are some of the students from Junior 2 wearing blue to show support for their friends with ASD! Well done guys!
Kayla, Robert and Shauna from Middle 2 working hard and wearing Blue to support their friends and family with ASD!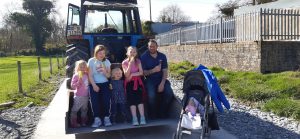 Covid-19 Distance Learning
Hi parents,
We hope you are all keeping well and safe during this challenging time!
Below is a link to a very useful story in booklet form to explain all about the Coronavirus to children who may have trouble understanding what is going on in our world today.
https://nosycrow.com/wp-content/uploads/2020/04/Coronavirus-A-Book-for-Children.pdf
Other Useful Websites for the children to use during the lockdown period:
www.twinkl.ie
are offering thousands of free resources for parents who are homeschooling their children during the coronavirus outbreak.
do2learn.com
 – a resource for individuals with special needs.
www.starfall.com
 – an interactive free public service to teach children with an emphasis on exploration, play and reinforcement.
Virtual Field Trips
 – a list of 40 different places around the world you can visit with your child.
New Years Day Swim 2020
Shauna Mc Fadden from St Bernadette's Special School, starting the New Year's Day swim, along with a student from Naomh Mhuire NS, Creeslough.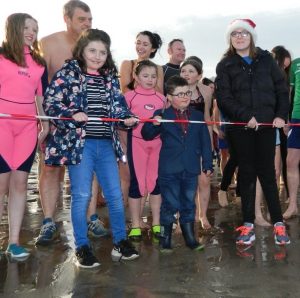 Christmas Draw 2019
The annual St. Bernadette's Christmas Draw was held on Tuesday the 17th of December in school. We would like to thank everyone who bought tickets from the children or staff members and those who purchased tickets outside Tesco's, Dunnes Stores (Old Town) and Spar Glencar over the last few weeks. Below are some pictures of the draw along with pictures of winners from inside our school. Thanks again!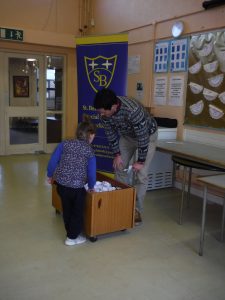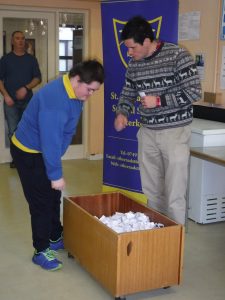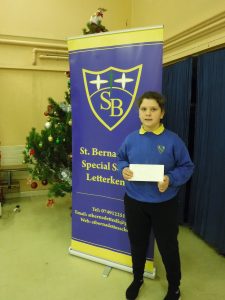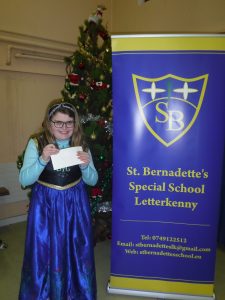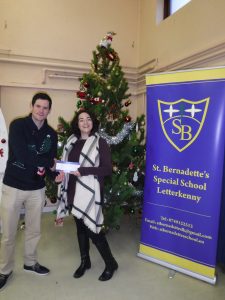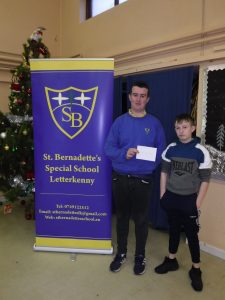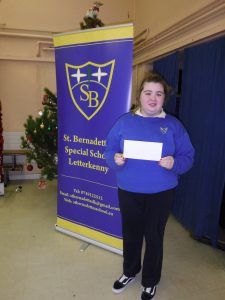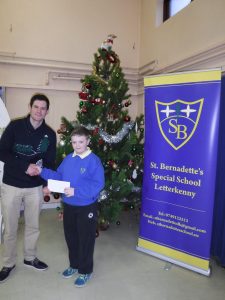 Christmas Concert 2019
We had our Christmas concert on 12th December. Each class group got up and sang various Christmas songs while their proud parents watched. Everyone sang their little hearts out and put on a great performance.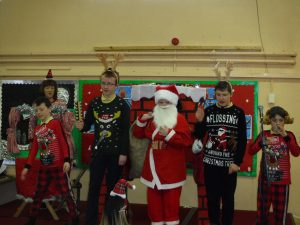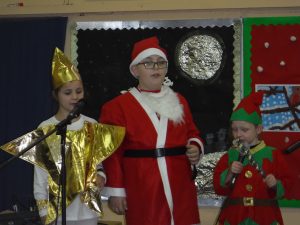 Christmas Carolling 2019
On Wednesday 11th December, a large group of children from every class in St. Bernadette's where singing Christmas Carols in Letterkenny Shopping Centre. The children practiced their singing very hard every day from the middle of November to ensure that they sounded great and knew the words to every song. We are so proud of each of them and they raised a great sum of money for our school! Below is a video of their great performance!
Twelve students from our school also sang Christmas Carols in Lidl, Letterkenny on Friday 13th December. Once again, they raised a large sum of money for our school and they put on a fantastic performance!!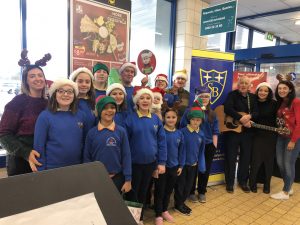 22nd October 2019
Today we had a visit from Garda Doherty and Garda McGinty, who spoke to the children about safety around Halloween, specifically regarding fireworks, bonfires and going trick 'r treat-ing.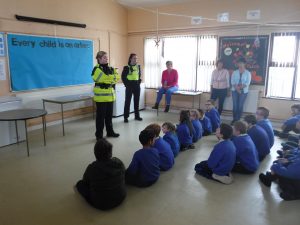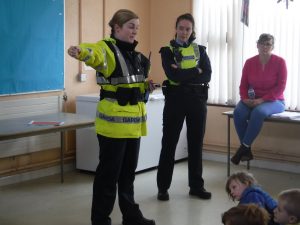 Summer Concert 2017
The school held its Summer Concert on 13th and 14th June. The different class groups had prepared a mix of singing, dancing, and story-telling. Parents were entertained and the students had a great time performing. A special thank you to Martin Orr who came to the school (with his guitar) over the past few weeks to help the graduation class (Honky Tonk Graduates) prepare for the concert. Check out the Gallery for all the photos!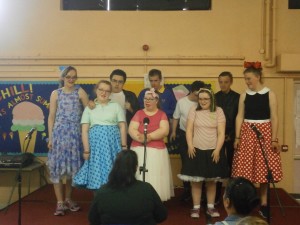 Halloween Disco
On 27th October 2016 we had our Halloween disco. A lot of the children and staff dressed up in their scariest outfits. Our DJ played all the best tunes and everyone had a great time dancing and playing games. Go to the Gallery page to see all the photos.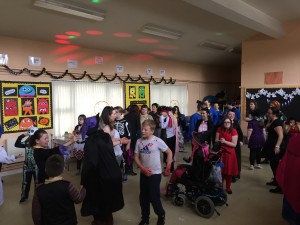 School Barn Dance
On the 24th June we had an end of year barn dance in the school. Staff and students dressed up and took part in singing, dancing and cowboy walking competitions. It was a fun day for the whole school.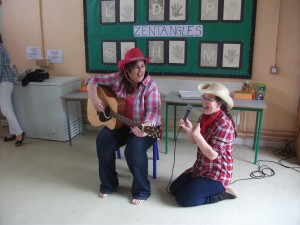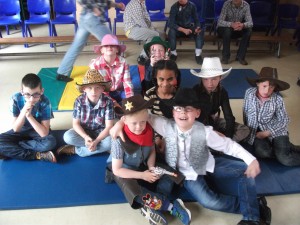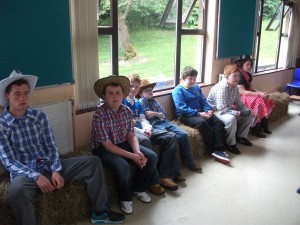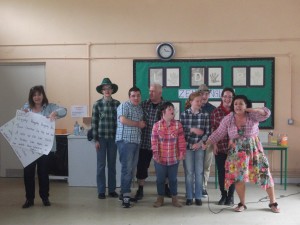 Letterkenny Fire Brigade visit school
On 4th February some of the firemen from the Letterkenny fire station visited in their fire engine. The children had a great time sitting in the engine, letting off the siren and taking turns using the hose. Thank you to the guys from the fire station for taking the time to visit us, we all had a great time!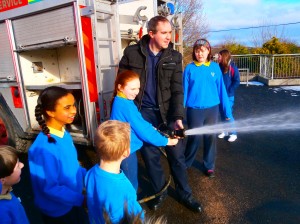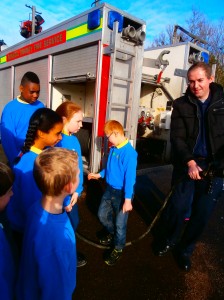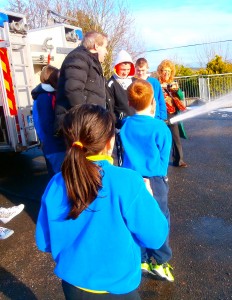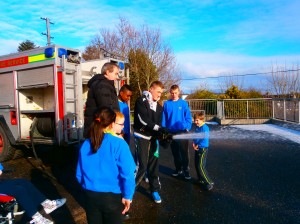 Christmas Concert 2014
Thank you to everyone who came to our Christmas concert. It was a great success yet again. This year it was held over two days, 16th and 17th December, to facilitate the large number of parents, family and friends who wanted to come.  The children had a lot of fun, singing, dancing, and acting in short plays. They were all fantastic and everyone enjoyed it thoroughly.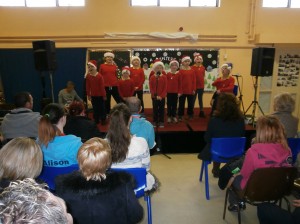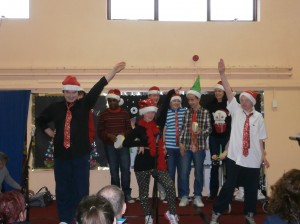 Man of the Match
Congratulations to teacher John Haran who was St. Eunan's man of the match in Sunday's Raidio na Gaeltachta Donegal Senior Football Final. St. Eunan's defeated Glenswilly 0-9 to 0-6.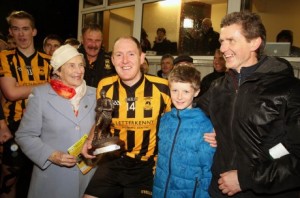 John Also celebrates his birthday today. Happy birthday John from all the staff and students at St. Bernadette's.