Hi and Welcome to JCL2 2A! 
Miss Mc Namee's Class
2019-2020 Memories 🙂
Here is a short video of our year at school …..
Monday 22nd June: The final Hoorah!
Hi parents and boys and girls in Middle 2! I hope you all had a fantastic week. Can you believe we are into the last week of the 2019-2020 school year? The year flew in!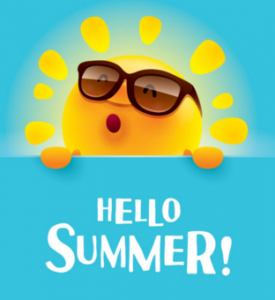 This week i sent home learning activities home via email and I will send you a small package by the end of the week. I want you to think back on all the good times we had in our Middle 2 classroom: from our trips out, PE activities, our Christmas Craft Shop, School concert and all the learning in between. You can fill in the School Year memories worksheets based on this. There are also a few more End of Year activities for you all to complete.
I am so proud that i was your teacher this year- I have noticed such a difference in you all from the beginning of the year until March and I have no doubt that you have all grown up so much over the last couple of months while we have been learning at home.
I want to thank all your parents for their support this year, especially during the COVID-19 Lockdown period, and I would like to sincerely thank all you boys and girls for being motivated, kind, caring and respectful in the classroom at all times this year. You have been a joy to teach and I wish you all the best in your remaining years in St. Bernadette's. Hopefully I will see you all soon.
Ms McNamee
July Provision
Please click on the link below for the online registration form for the Home Based July Provision 2020. Our School roll number is 19592J. Feel free to contact me if you need any help with the form/finding a tutor.
https://checkbox.education.gov.ie/checkbox/Summer_Provision_2020.aspx
Monday 8th June 2020
Hi to all the boys and girls of middle 2!
I hope you all had a lovely weekend and you are all continuing with your work I emailed to you last week. As we are coming near to the end of the school year, I think it is important that we focus more on being active outdoors and enjoy the company of our families rather than sitting inside doing written work.
As we will not be having a sports day this year, i would love if you could all practice for a few races we would normally have. Take a look at the videos below:
https://www.youtube.com/watch?v=4yMS0IuPZD0
I would be delighted if you could send me a few pictures of your at home sports day, so we can make a lovely school video of everyone taking part in sports day at home.
At this time of the year we would also be going on school tours and trips out with our class. If you have time in the evenings, why don't you have a look at the following virtual tours:
Dublin Zoo : Explore Dublin Zoo and see your favourite animals 
Giants Causeway: Take a look at the rugged coastline of Co. Antrim
https://www.nationaltrust.org.uk/giants-causeway/features/take-a-virtual-tour-of-the-giants-causeway
Lastly, some of the staff of St. Bernadettes are taking part in a challenge at home where they have to walk 500km in just three months. I have walked and ran 52km this week 🙂
I would be grateful to any of you that can donate online and a massive thanks to everyone who already has donated
! https://www.gofundme.com/f/st-bernadette039s-500k-virtual-challenge
Home Learning Activities: 2nd-12th June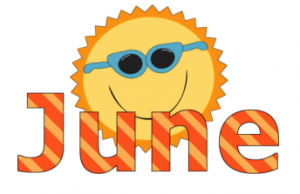 HI boys, girls and parents.
I hope you had a fantastic bank holiday weekend. It was lovely to see the sun come out and I hope you all enjoyed the warm weather…hopefully it will last ALL SUMMER!
We are finally in our last month of school. It is hard to believe it has been nearly 3 months since I last seen all your faces in our classroom. I miss you all so much but I am also so impressed with all the hard work you are doing at home and delighted to hear that you are all helping your parents around the house.
For the next fortnight, the activities that I send out are based on the theme of SUMMER
Below are the home learning activities to complete and I have emailed you all your individual work: spellings, maths and english
HOME LEARNING ACTIVITIES 2nd June
In maths we are revising Telling the time. I thought it would be a nice activity to go outside and make a clock like the one below using stones and sticks. You could ask a brother, sister or parent to call out a time and you can move the sticks to make the time.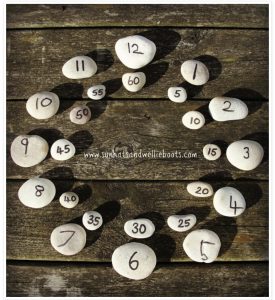 I would love if you could practice using websites we use in class:
 https://mathsframe.co.uk/en/resources/resource/116/telling-the-time
For art, i have asked that you gather twigs, leaves, flowers or other garden materials and create art similar to these pictures below:
For cookery, I would love if you could make yummy fruit smoothies for your family following the powerpoint presentation or youtube videos in your work pack. And in SESE/English you will be learning all about Summer in Ireland- going on a flower hunt in your local area and completing reading comprehensions on Summer.
For PE, i would like you to complete this Outdoor Challenge over the month of June. It is a fun way to be active and fit within your own homes.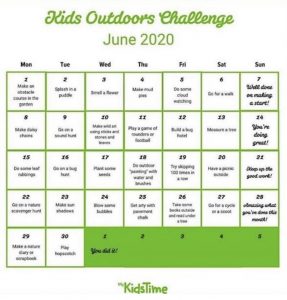 I hope you all have another fantastic week, and i will be in touch with you all soon!
Birthday Girl 🙂
 Last week, another one of our girls celebrated a big birthday: Shauna is now a teenager. Shauna and her twin sister Rebecca turned 13 on Friday the 29th of May and they celebrated at home with their mum and dad, and ate delicious chocolate cake in the garden. Happy Birthday girls 🙂
Shauna was very bust at home last week as well, and she emailed me pictures of her work. She completed her reading comprehensions on animals, helped her dad out in her new house by laying new floors, and practicing her basketball outside. Shauna also loved receiving letters from her friends from school and she has been busy keeping in touch through letters.
 Well done Shauna- your doing super work. Keep it up!
29th May 2020
Good morning and happy Friday to all the boys and girls in Middle 2. I hope you all enjoyed the work on Animals over the last two weeks, we will move onto another topic of work for next week. Thank you to everyone who sent me pictures and emails, i was delighted to hear and see you.
A special mention to those who wrote a letter back to me. It was great to see how you can communicate through posting letters especially now when we are all missing our Middle 2 class. Below are reply letters from Shauna, Melissa and Emma Patterson from Senior 2.
Have a lovely Bank Holiday weekend, and i will be in contact again next week 🙂
25th May 2020: Continuing with our work on ANIMALS
Good morning everyone! I hope you all had a super week and a relaxing weekend. We are continuing with our theme of Animals again this week. I can send on more worksheets if needed, although I am sure you have enough from last weeks work pack. Have a look at this video: "All about insects"! You will learn about animals similar to the butterfly.
By now you will have all received the letter and pack I posted to you last week.I would love if you could reply to me and let me know what you are all getting up to.
I understand that it is very hard to do all your school work at home, and sometimes you need to take a wee break.. remember that is ok! Take a break from written work and help out at home or keep active through sport!
Enjoy this weeks learning, and I hope to hear from more of you this week, Ms McNamee
Home-Learning Activities 18th – 29th May
Hi parents, guardians, boys and girls, I hope you had a great weekend. Thank you all so much for the lovely pictures of the children working hard at home. I am missing our Middle 2 classroom a lot but seeing your hardworking and smiling faces make it a little bit easier for me at home!
I have sent out work activities for the children via email for the next fortnight, and the boys and girls will receive a letter from me in the post in the next day or two. I hope you can all write back to me to let me know what you have been getting up to since lockdown began and how you feel about learning from home.
This fortnights theme is based on ANIMALS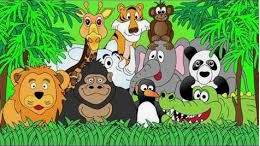 In your activity packs i have included topic work on Animals.
For English, there are many comprehensions based on different animals and their habitats (where they live). I have sent out a small project where you can choose one animal and write about it and its habitat
In SESE, you are all going to be learning about the life cycle of a butterfly. Have a look at this cool video where you will learn all about a butterflying growing and see the Life Cycle taking place:
After watching this video and reading the powerpoint based on the life cycle of a Butterfly, i am 100% positive that you will all be able to complete the sequencing activity and the cut and paste worksheets I have emailed to you all.
For Maths this week we are going to complete Money activities.
I would like you all to set up a Shop at home, put price tags on items and use some coins in a till. Ask your brothers and sisters or your parents to buy something with their money. You will be the shop keeper and you have to make sure you count the money the shopper gives you and give back the correct change to the shoppers.
We were working so hard on our Money lessons in class before the Lockdown occurred. Hopefully you will find the worksheets easy to complete.
Here are a few games to play based on money (These will help you with your worksheets too!):
http://https://www.teachingmoney.co.uk/eurosite/wb/CLASSchangeEURO.html
http://https://content.folensonline.ie/programmes/PlanetMaths/PM1/resources/activitya/pm_1c_062/index.html
https://www.topmarks.co.uk/money/toy-shop-money/eur
And in Music, I would love if you could listen to this song and watch the video of the Lion King. The Circle of Life is a very popular song written by Sir Elton John. Have a think about the instruments you can hear and the beat of the music.
Lastly, I hope you are all keeping fit and active during this challenging time. Mr Shiels has sent me a few different from the Donegal Sports Partnership if you would like to have a look at them. They are all free to use and look very interesting!
  Online Inclusion PE Resources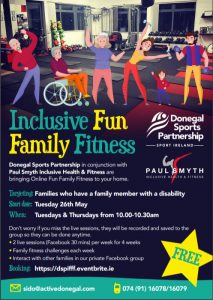 I hope you all have a fun week of learning, and don't forget you can contact me at any time through email on daniellemcnamee90@gmail.com.
Talk to you all soon, Ms McNamee
Keeping in touch through pictures (15th May 2020)
We continued on our Italian theme again this week.
Shauna was very busy researching Italian facts for her SESE project.
She made a gorgeous mosaic picture using coloured paper and glue.
I just love the colours Shauna used and the black background makes her picture of the Leaning Tower of Pisa stand out!
Absolutely amazing work Shauna!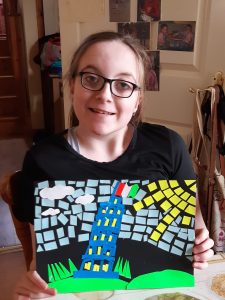 Shauna has been writing letters to her friend Emma Patterson in Senior 2 and she decided she would write a letter to all of us in Middle 2 as well. Lovely thought Shauna! Keep up the good work 🙂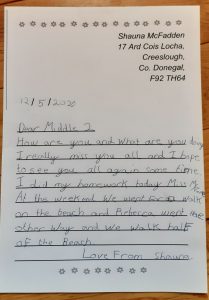 Keeping in touch through pictures (11th May 2020)
Good afternoon everyone!
I was delighted to receive some gorgeous pictures of some of the children of Middle 2 this weekend. They have all been working so hard at home with their families: making lunch/dinner, writing letters, being active and fit by exercising outdoors in the beautiful weather and much more.
Chef Shauna was very busy in the kitchen last week. She completed the challenge of creating an Italian restaurant experience for her family because our theme for this fortnight is ITALY.
Shauna used a 'no yeast' pizza recipe instead of the recipe I emailed. She found online on 15-Minute Pizza Dough Recipe (No Yeast) _ Bigger Bolder Baking
Shauna selected all the ingredients and equipment. She made the pizza dough in a bowl, rolled it out using a rolling pin. She then spread out the sauce over Pizza and added cheese. Next she choose chicken, peppers and onion as her toppings and placed them on the pizza. She carefully placed the pizza into the oven for 15mins until cooked. Lastly, she served the pizza to her family. I really think her dad enjoyed it!
Well done Shauna- keep up the fabulous work!
Kayla has been working very hard over the last number of weeks and emailed me her pictures this morning alongside some news she had to share. She was busy with her lighthouse work: building a 3D lighthouse and answering questions on Lighthouses.
Kayla has also been keeping very active, especially last week during active home week. She was playing outside with her sisters, walking with her mum, dad and family, cycling in her garden and making sure she walked her pet goat every day.
In Kaylas email she mentioned that she can't wait to make Pizza from the recipe i sent out in this fortnights workpack. She has already been practicing making dinner at home! Good on you Kayla!
5th May 2020: Learning continues at home! Hi boys, girls and parents.
I hope you all had a lovely bank holiday weekend and are continuing to enjoy the fine weather we are having at the minute. It is the perfect opportunity to get out and about in your local area, while remembering to social distance from those who do not belong to your family home.
By now, you should have all received emails with your work-pack for the next fortnight. As i explained in the email do not feel under huge pressure to complete all activities. It is extremely important that you continue to work on your life skills when at home; washing yourself daily (including your teeth!), helping prepare food, gardening, tying your shoelaces, helping with laundry etc.
This fortnights theme of work is based on Italy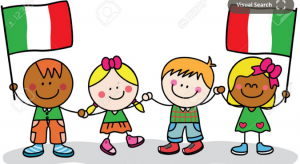 HOME LEARNING ACTIVITIES 5th May
In your emails, I have included a recipe for making Pizza's, maths fractions work, Italy reading comprehensions and a small fact file for you to complete. I also have asked you to look at the mosaic examples i have sent and make one of your own, using any shape or colours.
Here are a few websites or videos that you can look at to help you with your fact file about the beautiful country of Italy!
https://www.kids-world-travel-guide.com/italy-facts.html
https://www.youtube.com/watch?v=M3re6nsan88
https://www.youtube.com/watch?v=g5mpdzUlFmw
Talk to you all very soon, Ms McNamee.
Keeping in touch through photographs (5th May)
Hi to all,
Thank you so much for continuing to send in your pictures. I can tell by these pictures that you are all very busy at home, helping out with housework and developing your life skills as well as keeping up with all the work I have sent home through email.
Here are some pictures of Melissa who as you can tell has been very creative this week. She was being active at home practicing her gymnastics and walking in her local area. I just love her caterpillar created with leaves! Amazing Melissa!!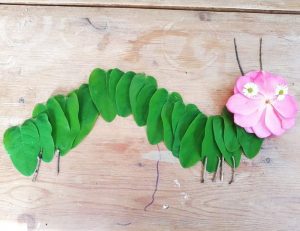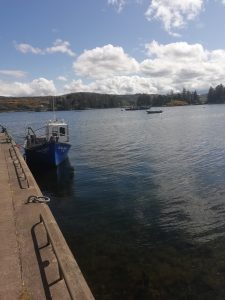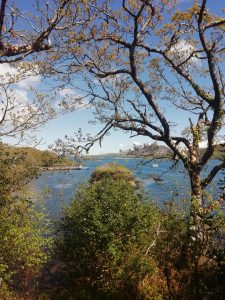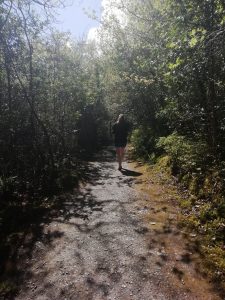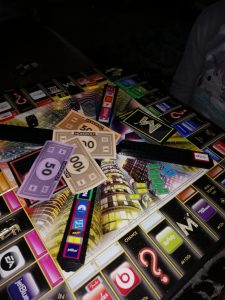 Below are pictures of Shauna, who has been hard at work at home. Shauna helped to hang out the washing, match her socks when the washing was dry and she was even learning a bit about how to run a tractor. I think you'll have to teach us that one Shauna!
Active "Home" Week
April 27th-3rd May
Hi boys, girls and parents,
Every April National Active School week takes place in schools throughout Ireland. This year, however, we are going to have an Active Home Week, were you can take part in activities in your home or in your local environment (keeping within the 2km radius!)
Last week the email i sent you all included two weeks work, so this week, I want you to continue with work that you did not get a chance to complete last week and then be as active as possible at home with your family.
There are lots of different ways that you can keep active, fit and energised within your home and locality. Here are a few examples below:
Joe Wicks is providing a workout at 9am each day on his youtube channel. Click the video below to see an example which will lead you into his channel.
Another kids workout on youtube is Kids HIIT Workout
Just Dance is another example of videos on youtube that I think you all will like. You can learn dances to some of your favourite songs! Just Dance
Cosmic Kids Yoga : 10-20 minute video workouts that will teach you to stretch, bend and get moving!
Twinkl.ie also have a wide variety of active workout ideas. Search Outdoor Activities in the search bar to get activity cards similar to the one below: Gross Motor Activity cards 
Make an obstacle course, similar to the picture below, in your garden for you and your family to enjoy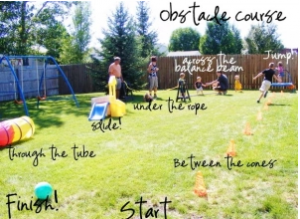 Play football or basketball with your brothers/sisters- Practice your throwing and kicking skills you learned at school
Complete your name using exercises
Remember you can practice your walking, running or cycling skills too!
I can't wait to see and hear all about your Active Home week! Make sure to continue to email your pictures to me so I can put them on the website for all the class to see!
I really enjoy seeing your happy, smiley faces!
Ms McNamee
Keeping in touch through Pictures
Hi everyone,
Many thanks to Robert and Melissa who emailed me photos of their hard work over the past couple of weeks. I was delighted to receive these and it looks like you are having a great time at home. Keep up the good work and hopefully we'll be back in the Middle 2 classroom very soon!
Robert
Robert practicing his number formation while creating a game of hopscotch outside in the sunshine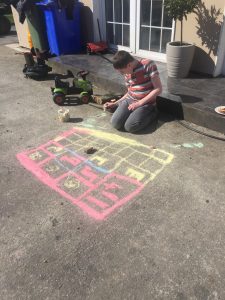 He also spent time helping on the farm and this picture is of Robert feeding an orphaned lamb 🙂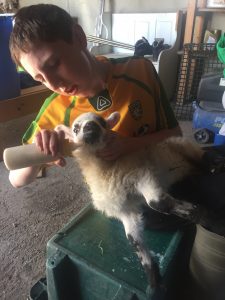 Robert made a rocket out of recycled materials found at home and can also be seen doing other colouring activities and school work that I sent home
Robert completed an Easter Egg hunt with his family at home on Easter morning and he found lots and lots of Easter Eggs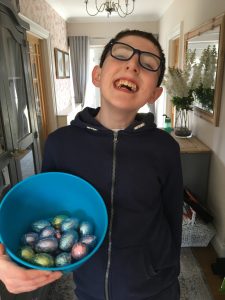 Lastly it was Roberts birthday on April 20th, and it looks like he had a great day spent eating Chocolate birthday cake- My favourite!!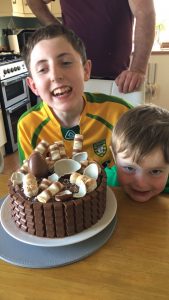 Happy 14th Birthday Robert, from Ms McNamee and all in Middle 2!
Melissa 
Melissa has also been very busy over the past couple of weeks. She is working very hard as usual at completing the worksheets I sent home. Here are a few images of Melissa's County Project, I asked the class to pick a county of their choice other than Ireland to complete a project on. Melissa chose Co. Wicklow.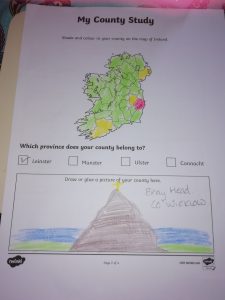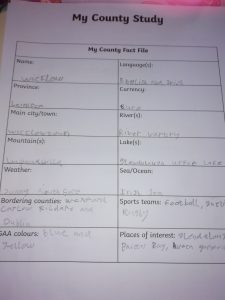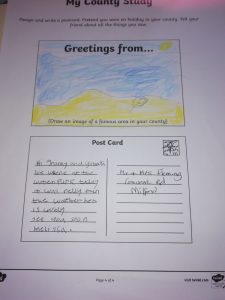 Lockdown Extended: Covid19 Social Distance Learning from 21st April
Hi once again 🙂
As you are aware, we are not returning to school this Monday, April 21st as the lockdown has been extended once again. I understand how difficult this situation is for you all, so please don't feel like you need to have your child sitting for hours everyday completing school work. This is a very challenging time, and your children are no doubt worried and stressed because of what they see and hear going on in the world today.
I would be delighted if the children were completing their school work for an hour or two each day, as well as reading for enjoyment, being active, playing and creating, as well as enjoying family time which we should be grateful for.
I will send out an email on Sunday evening with individualised work for the children to complete over the next two weeks, from April 21st until May 1st. Once again, Home Learning Activities (linked below) will additionally be attached to the email.
HOME LEARNING ACTIVITIES 21st April 
The theme of work for the next two weeks is based on Lighthouses. I hope that you can find some time to talk with your children about where they are located, the colours of lighthouses, their shape, why they are used etc. I had hoped that we would be able to visit Fanad Lighthouse this term so perhaps when we return to school we will go on a wee adventure.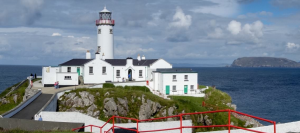 Lastly, i hope you are all keeping safe and well. Enjoy the good weather, hopefully it will last 🙂
Ms McNamee
COVID19: SOCIAL DISTANCE LEARNING
Hi to all the parents and guardians of the students in Middle 2.
I was happy to have the chance to speak with you regarding the teaching and learning for your children. Mindful of the exceptional times we are currently experiencing, I do not wish to add further stress to family life, but rather help provide structure to your child's learning while they are at home.
Not every family will be in a position to participate in the Home Learning activities, I understand this and value every families decision equally. There is no obligation on families to complete the activities suggested. Everyone's main focus should be on keeping safe and healthy.
HOME LEARNING ACTIVITIES 23rd March
HOME LEARNING ACTIVITIES 6TH APRIL
You will have received these home learning activities via email, alongside individualised work and a small 'County of Ireland' research project. I would appreciate if the children would complete these and keep a short diary as times like this will go down in History.
Twinkl.ie have free resources and worksheets for parents and RTE are holding a learning class everyday from 11am-12pm if your children would like to watch it.
Below are other helpful websites that you can use over the coming weeks:
http://covid19.shanehastings.eu/giveback/
https://ncse.ie/online-resources-for-parents
https://www.topmarks.co.uk/maths-games
https://learn.khanacademy.org/khan-academy-kids/
If you feel the need to contact me further or need any support or guidance, please do not hesitate. My email is daniellemcnamee90@gmail.com.
Keep well and keep safe, and i look forward to seeing all the students in class in the near future.
Ms McNamee
Our Class
There are seven children in Middle 2 this year. Two boys, Anthony and Robert, alongside five girls Holly, Shauna, Melissa, Lila Grace and Kayla.
All about us Display 🙂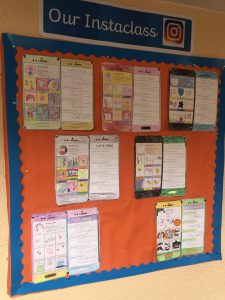 During the month of September, our class learned about the variety of communities we all belong to. We know that we belong to our family community at home, the St. Bernadette's community at school as well as our local communities where we live.
We talked about the towns that we lived in in Co. Donegal and how far apart they are, and then we designed our own local towns. We observed and talked about the buildings that you can find near our school and we examined old photos of buildings in Letterkenny and talked about how it has changed in recent times.
As we were learning about buildings, we looked at the work of famous artist James Rizzi. Rizzi was born in 1950 and lived in New York City. He drew and painted tall bright buildings and gave them human characteristics. We really loved this art activity and i think you'll agree our Art work is fantastic!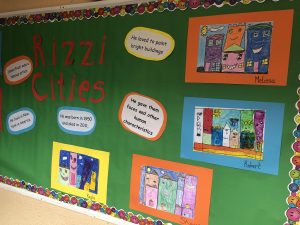 Autumn Walk in Gartan
On Tuesday we went on a bus trip with Ms. Deeney's class to Gartan Lake. We observed the changes in nature, the leaves changing colour and little animals gathering food for Winter.
When we returned to class we made gorgeous Hedgehogs in an Art lesson. We used a range of pasta shapes to create the Hedgehogs body and spikes and painted an Autumn background.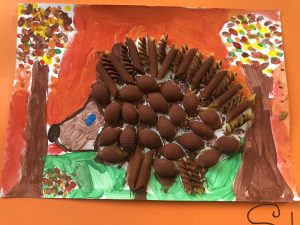 In October we focused on the Rugby World Cup that was taking place in Japan. All the children picked a country of their choice to complete a research on it.
Lila Grace- Japan
Holly- Canada
Shauna- Russia
Robert- Italy
Anthony- Ireland
Melissa- Australia
Kayla- Fiji
In Art, we drew self-portraits of us wearing our countries jerseys.
In science, we learned about the importance of keeping healthy and fit. We talked about how it is important to look after our bodies, to exercise every day and to eat healthy foods. We explored the food pyramid and noticed how important it is to eat a wide variety of foods, especially fruits and vegetables. We made a class 'Food pyramid' and we had a lovely healthy breakfast of fresh fruit!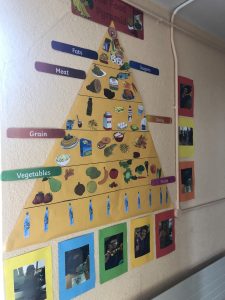 Our Halloween Art: Haunted Houses
Sugar Skulls
Christmas Craft Fair
From early November, the boys and girls of Middle 2 worked very hard making handmade crafts to sell in order to raise money for their class. We researched pictures of easy crafts to make and sourced materials from our classroom and homes that could be recycled and made into decorations. Once we decided what we were going to create, the children got straight to work. The children donated approximately one hour every day to make their own handmade Christmas decorations. Below are some pictures of Middle 2 at work:
Our Christmas Craft sale took place on December 12th, and all parents/guardians and friends who attended the Christmas Concert could purchase a Christmas item from our craft fair. The girls and boys from Middle 2 all had their own jobs on the day, between setting up the stall, typing up price lists, cashiers or selling and describing the items for sale. They did a great job and even managed to raise over 200euro for their class outings! Thank you so much to everyone who purchased something from our craft sale 🙂
Christmas Concert: Elves on Strike!!!
Characters: Santa: Lila    Narrator: Shauna    Elves: Robert, Melissa, Kayla, Holly